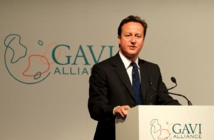 Ben Fisher/GAVI Alliance
According to The Times, Mr. Cameron was planning to visit the Saudi capital Riyadh during a business trip to the Gulf countries in the coming weeks. The official statement notes that the British Prime Minister's trip cancellation has nothing to do with the current tensions in the region, caused by the execution of the famous Shiite preacher Nimr Al Nimr.

Earlier, on January 3, Tobias Ellwood, a British foreign office minister, criticized the mass executions in Saudi Arabia.

London is overtaken with worries and disappointments, he added.

Britain strongly opposes the death penalty. Saudi authorities have already been informed about the response of London, the diplomat said.

In addition, Ellwood commented attacks on the Saudi embassy in the Iranian capital committed after the execution of Shiite preacher Nimr Al Nimr. The representative of the Ministry of Foreign Affairs expressed deep concern, adding that diplomatic missions of foreign countries shall be securely protected from outside intrusions.

The diplomat urged Middle Eastern states to show restraint.

The relationship between Saudi Arabia and Britain have always been built on the delicate balance between strong trade ties and controversial political and social issues. The intercourse of the countries often stumbles across democracy issues, punishments according to Sharia, as well as on women's rights.

For example, in October last year, the countries' partnership was put under threat once again. The reason was a quarrel concerning Britain's refusal to allocate funds for a reformation program of the Saudi Arabian penitentiary system. This statement was made after British media reported that Saudi Arabia intended to enforce a sentence imposed against 74-year-old Briton carrying home-made wine in his car's trunk. Saudi Sharia court sentenced the Briton to 12 months in prison and 350 lashes. The leader of the British Labour Party Jeremy Corbyn said that the decision to refuse to allocate 6 million GBP to reform the penitentiary system in Saudi Arabia was taken not without his influence.

In this regard, Saudi Arabia's ambassador in London, Prince Mohammed bin Nawwaf bin Abdulaziz warned that relations between the two countries could be threatened due to excessive politicization from the British side.

"My country often have to deal with misunderstanding and prejudice. Yet, since our people respect the traditions, customs, laws, and religion of the UK, we can expect the same from the UK", - said the Ambassador to the Daily Telegraph.