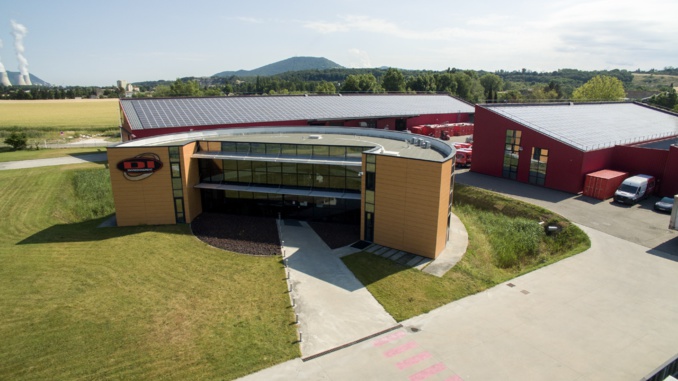 DI Environnement, Montelimar (France)
Achieving full potential
As is often the case with service companies, DI didn't initially
begin its operations
in the fields where it eventually specialized. In 1987, the company launched its offer with a technique which was still nascent at the time:
projected insulation
. Spraying insulation materials offered possibilities which previous techniques simply could not match: large surfaces could be insulated perfectly, rapidly and durably, no matter how uneven or complex the surface was. As business expanded, the company was running ever more often into projects where operations were hindered by the presence of
contaminants
- namely, asbestos. As a natural extension of its services, DI thus started offering de-contamination and asbestos operations. This comprehensive approach had the double benefit of speeding up and securing projects, by having all sub-tasks entrusted to one single supplier. And so, DI gradually became specialized in all decontamination operations and is now a reference on its market, both in France and abroad.
Multiple skills required
Decontamination processes have multiplied and become increasingly complex, as scientific techniques improved and new substances were gradually identified as sanitary hazards, thus requiring specialists to do the job. The National academies of Sciences, engineering and medicine
writes
: "
The actual decontamination operation of a building is likely to be conducted in a few days, although the schedule depends on the size of the project and its complexity. Temperature, relative humidity, concentration of decontamination agent, and contact time typically must be measured and recorded during decontamination. The success of the operation, however, and the avoidance of major technical or public relations problems, will largely depend on the quality of the planning
." Obligation to decontaminate can stem from the presence of multiple substances, ranging from oil residue to heavy metals, with asbestos and many others in between. Asbestos is still very present in constructions, and its disposal requires specific and elaborate skills. Any deconstruction is likely to generate dust particles which workers must necessarily be protected from. According to the specific nature of the project, DI has a tailormade approach to ensure that decontamination will be thorough, complete or in compliance with standards. Hugo Rosati, CEO for DI, says: "
DI Environnement continues its specialization by developing its own processes and materials, from design to manufacturing. Also, as the regulations relating to pollutants extended to all sectors of activity, we have diversified our areas of intervention in order to respond to all industrial issues and pollution control issues
."
Ever-higher stakes
Decontamination and asbestos removal are no longer a luxury, or even an option, for modern construction projects. Obtaining the adequate clearances, many of which hinge on environmental standards being met, is now essential to construction projects whose timeline can be severely disrupted if decontamination issues arise. Additionally, environmental standards have existed for decades, but their actual enforcement is more recent and is still being reinforced, year after year. Given the
subsequent risk
that a project would be halted for sanitary concerns, by the authorities - or even worse, reversed, because decontamination diligence was not properly carried out - DI positions itself not as a service provider but as a project partner, ensuring the smooth operation of a construction project. Hugo Rosati adds: "
We are built flexibly: DI Environment is organized to provide a local service to its customers, via our multiple locations, but also to manage large-scale projects, with multiple pollutants and related trades. This strategy ultimately allows us to be both an ultra-specialized player in pollution control but also to be able to send an offer to suit all of our customers' requests for pollution control, regardless of the sector of activity
."
The international dimension
Originally operating on the French market, DI built its name and fame on domestic territory. Once leadership was acquired, an opportunity dawned on the firm: not only do all neighbouring countries all apply similar environmental and sanitary regulations, but
France has the most stringent set of rules
. As a consequence, it rapidly became obvious to DI that moving into markets abroad made sense, as it was already supplying services of a more demanding nature at home. Hugo Rosati explains "
Our benchmark position in this area and our know-how also allow us to project ourselves into markets beyond our borders: our subsidiaries in Africa and our major international projects represent an increasing part of our activity. Above all, the prospects for depollution and asbestos removal on a global scale, which are on an exponential trend, push us to develop in other regions. So yes, the international is, and will become all the more, an important issue of growth and development for DI Environment.
" With active development in Africa, DI aspires to uphold standards in regions where environmental stakes are high, and which have long been overlooked.
DI's expansion has been steadfast, since its creation in 1987, and much of it was owed to its capacity to adapt to new demand and standards. On many occasions, the decontamination firm not only met new standards, but exceeded them with newly created techniques, thus helping the shaping of a new environmental deal in France, and then abroad. With its current international expansion, DI will likely be identified as a strategic partner by global construction companies, who may see the value in applying the same high standards to all projects, regardless of location.