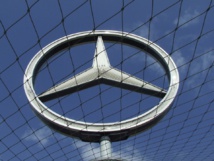 pixabay.com
The fine was imposed because the automaker has forced dealers to set minimum prices for some cars and parts. This, in particular, relates to S- and E-class automobiles.

Daimler was found guilty of violation of free competition in the auto market in August, but only eight months later sum of the fine was declared. The reason for the delay is not reported.

According to the antitrust authorities, violations were committed in 2013-2014. The company admitted them. The amount of accrued penalty is equal to 7% of annual sales of Daimler AG in Jiangsu. Smaller fines are imposed on dealers.

- The investigation revealed that Mercedes-Benz entered into agreement with dealers in the province on establishing minimum acceptable prices for cars of class E, and S, as well as accessories. This is a violation of antitrust laws, limits market competition and significantly infringes on the rights of consumers - TASS quoted statement of Jiangsu government regarding violations committed in 2013-2014 and admitted by company.

Maritime province Jiangsu is among the most economically developed regions of China, and traditionally has a high demand for premium and luxury cars.

Last year, the authorities have fined the Chinese manufacturers Volkswagen and Fiat Chrysler's dealership for $ 46 million. This was the first fines for price fixing.

It is worth noting that in February, Daimler announced recalling more than 147 thousand Mercedes cars, released in the past few years, according to the Associated Press. Reason for the withdrawal was the problem with a seal in the engine compartment, which may cause a fire.

As explained in the company, the rubber seal in the engine compartment, which acts as a noise reduction, may stick to the hood when opened. Then seal can fall into the engine compartment and in the case of contact with the exhaust system there may a fire.

Review, which mainly concerns the E-Class vehicles, issued from 2013 to 2015, began in March. Official dealers of Mercedes-Benz will fix a problem item with additional four retainers.

Reuters adds that about 127 thousand motor vehicles in China and 22 thousand cars in Germany.
fall under the review.