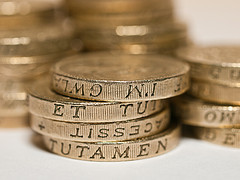 The majority of financial transactions in Britain were made without cash in 2014, a shift from the status quo for the first time in the country.

According to the Payment Council of Britain, this is the first time that cash has been less widely used than alternatives. The Payments Council which represents Britain's payments industry said the total number of cash payments made by consumers, businesses and financial organizations in Britain fell to 48 percent last year from 52 percent in 2013. The study noted that the trend has been increasingly swaying towards cashless payment systems.

The data but noted that cash is still the king when it comes to paying for goods by individual consumers, with about 52 percent of transactions being made with cash. The association is hopeful that there will be changes in this payment mode as well. The analysis expects that the figure will drop below 50 % next year even as there is no hope that cash will disappear completely from the picture in such a short span.

Last year 1.6 million Brits - 3.1% of all adults - predominantly used cash. But nearly 40% of these are aged 65 or over and people under 35 are far more likely to use electronic alternatives. The study also found disparity in payment methods at different types of retailers, with just a third of purchases at electrical goods stores made with notes and coins, compared to more than 80% at newsagents.

Link, the company which runs Britain's network of cash machines, conducted a study which showed that the number of cash machines in Britain increased to a record 69,382 last year, with nine out of 10 Britons withdrawing cash from an automated teller machine (ATM) each month.