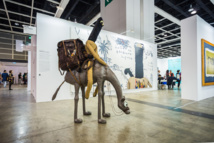 See-ming Lee via flickr
Sophisticated brainchildren of Pablo Picasso, provocative works of Damien Hirst, conceited Jeff Koons sculpture – you name it, we see it in the halls of the 46th international art fair Art Basel, the door is open to the public in Basel, Switzerland from 18 to 21 June. 284 world-famous art galleries from 33 countries entered this year in the number of participating exhibitors. The stands are works of art from the classical modern period to the present day.

- It is considered that Art Basel attracts only millionaires, and all the artists, they say, earn a lot of money. In fact, it is a myth, - said the director of the Basel Art Fair Marc Spiegler, speaking at the press conference on Art Basel opening.

However, this is investing in art that is considered to be the most stable, liquid and safe for investors. Not to mention the fact that today it is also fashionable. The following figures a clear proof of that - in 2014, the total turnover of the global art market was 51.22 billion euros, while ten years earlier investment in art did not hold up to half that amount.

A famous Austrian gallery owner Thaddaeus Ropac has been the thirtieth time involved in Art Basel. This year, he brought works of Georg Baselitz, Joseph Beuys, and Robert Rauschenberg. According to him, to acquire art for the purpose of reselling it at higher prices - not an end in itself. True collectors are not speculators, they buy works of art to form a complete and "timeless" art collections, says Ropac.

Whatever it was, this year's Art Basel collectors show excessive appetites. Among the potential buyers, gathered up in Basel, are world-famous collectors and representatives of famous museums, and movie stars – for example, once Leonardo DiCaprio visited the show.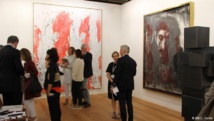 (c) DW
Some of the works of art suggested here worth millions. And one of Mark Rothko's works is even sold for almost 45 million euros, but people arriving at the "Art Shopping" are not deterred: they do not intend to leave here empty-handed.

Specific data of Art Basel fair's turnover will not be made public – generally, organizers prefer not to disclose such an information. But the fact that Art Basel is booming, cannot be questioned. One of the key figures here - the influx of visitors to the fair - this year, for example, it must collect to 90,000 art lovers, according to experts forecast.

source: dw.de