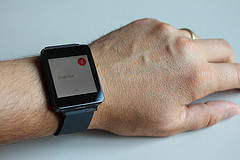 Apple Inc has released its second quarter results and with iphone 6 sales booming, the company has recorded its second best quarterly result this year.

The company CEO Tim Cook was also optimistic that the new Apple Watch can help add yet another major product category to its lineup, boosting sales and profit even more. The Apple Watch began shipping to customers last week and has not been reflected in this quarter result.

CEO Tim Cook didn't offer many hints about Apple Watch sales backed with numbers but noted that there are already 3,500 apps available for the Apple Watch, which is remarkable for a smartwatch that has been in some customers' hands for all of four days. "We're far ahead from where we expected to be from an application perspective," he said while noting that the iPhone launched with just 500 apps, and the iPad launched with 1,000.

Apple Watch is expected to begin selling in additional countries in June, while it is backordered until June or July.

Meanwhile, the company's sales indicate that China market has boosted its revenue. China is now Apple's largest market, next to the US. The company saw record sales in China, where revenue grew by a stunning 71% year-over-year and sales were particularly boosted by Chinese New Year, which fell in January. Though predictably, iPhone led the way, Mac sales were also up 31%, and iTunes sales doubled. The iPad even had its best quarter ever in China.

Apple said its net income rose to $13.6 billion, or $2.33 per share, up 33% from a year earlier. The Cupertino, California-based company also posted $58 billion in sales, up 27%, easily topping analysts' forecasts of $56.1 billion. For the current quarter, Apple anticipates revenue of between $46 billion and $48 billion.

The company ended the quarter with a jaw-dropping $193.5 billion in cash. Apple also announced Monday that it would increase its dividend by 11% to 52 cents per share. The company is also upping its stock buyback program to $140 billion, up from $90 billion. Apple said it now plans to spend $200 billion on its capital return program through March 2017.