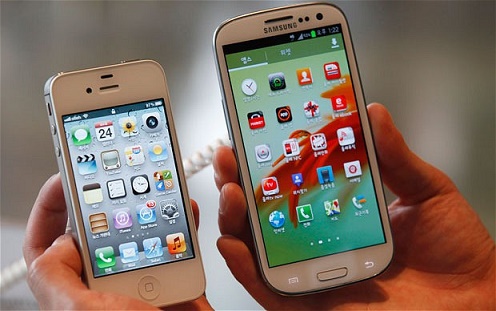 Apple Inc., the tech giant sold the largest number of smartphones in the last quarter of 2014, thereby overtaking Samsung, mainly led by strong demands from China. With a market share of around 20.4%, Apple's smartphone shipments reached the mark of 74.8 million which was slightly higher than Samsung's sale of 73.03 million phones. The tech titan reported the record profit of $18 billion in 4Q14 and snatched the top position from Samsung in the sales war since 2011. The launch of new iPhone 6 and iPhone 6 plus in September 2014, which provided the end users with larger screen smartphones was a huge success.

According to Gartner, Apple's smartphone sales marked a substantial rise of 49% in the fourth quarter 2014. Conversely, its South Korean rival Samsung witnessed a drop of about 12% in its sales for the same period that was the fifth consecutive decline in quarter earnings. Due to lackluster demand for S5 and tough competition at lower end of the market, Samsung struggled with declining sales during Christmas 2013. By losing nearly 10% of its market share, Samsung's performance further deteriorated in 4Q14. This downtrend signaled that the Korean giant's smartphone market share was continuously under substantial pressure. Moreover, Samsung was also battling with low cost smartphone sellers like Xiaomi, Lenovo and Huawei. These Chinese firms started biting at Samsung's sales by offering cheaper smartphones with high performance, specifically to the younger generation. Xiaomi almost doubled its market share to 5 % in a year with its sales reaching 19 million in 4Q14, significantly higher than 6 million sales recorded previous year. The company's market has expanded to developing nations like India, Mexico and is planning to launch its online store in Europe.

Even though Apple's sales are persistently strong in the US and China, the company still has room for advancement in emerging nations. Samsung is continuously fighting to regain back its market share and to prevent the downward spiral that has immensely damaged once established mobile phone businesses like Nokia and Blackberry. Moreover, Samsung is launching two updates of its flagship product S-6 and S6 Edge, which has an unusual curved screen. According to Gartner, the recent success of Apple is largely contributed by iPhone 6 and iPhone 6 Plus. Apple experienced significant growth in the US (88%) and China (56%), driven by robust consumer demand for phablets.

Despite troubles witnessed by Samsung, the worldwide smartphone market is overall expanding. With the boom in the market, the smartphone sales to the end users jumped 28.4% from 2013 to reach the mark of 1.2 billion units in 2014. But one striking factor that came up was the fact that both top competitors are losing their grip on the global smartphone market. According to a report, Apple is world's most valuable brand for the year 2015.