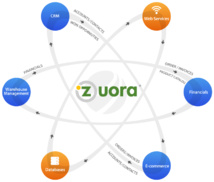 Being a global leader in the billing and subscription commerce model of the new economy, Zuora, lends a helping hand to industries wanting to cross over from the old model to a newer subscription-based one.

Founded in 2007, Zuora is a company that has recognized the new age of subscription as a service model pretty early on in this game. It prefers to describe itself as relationship business management company that helps you manage subscription across customer segments, your revenue inflows, recurring receipts and payments, order tracking etc. Essentially, it helps you manage aspects of your business which deal with subscription as a business model.

Subscription as a business model, is a new way of thinking and of doing business. If, as a company, you have yet to switch over to the new subscription-model economy, and you are used to working on ERP and SAP based models, you may rightly question the need to switch over to this subscription model. Tzuo of Auora has a ready answer for you.
"Companies have been [managing products] on ERP systems, and trying to run their businesses on Oracle and SAP, [but] it takes too long and too much effort."

Simplification of a working system is a sign of its genius, and the new age thinking of subscription-as-a-service is nothing but that. Although ERP and SAP have both worked consistently in the past for many companies, they are very tedious and time consuming to setup and maintain. This is especially true in large multinational corporations.

That does not go to say that subscription as a model can be setup by a child. It certainly has its own challenges. But in the long run, it streamlines and simplifies your business to a large extent, which can be achieved by ERP and SAP based solutions, but at a much greater cost.
Zuora offers three kinds of services:

1. Pre-paid plans that provides you with all the necessary details for a consumption based model

2. Subscription lifecycle plan which create a new metric and a new way of measuring a product's lifecycle

3. An integration plan that takes the above plans and integrates and fuses them with your existing systems such that you can gradually cross over to the new age subscription based model without having any downtime.

Thanks to the splash it has been making in the market, Zuora received a whopping $115 million funding, for its subscription as-a-service model. This additional funding brings its capital base to $250 million, which is a clear and definite sign that more and more companies are switching over to the new subscription-age business model. It is also a sign and a vote of confidence from investors that the subscription based model works.

Cofounder and CEO, Tien Tzuo was naturally and understandably all smiles.

"We're creating something new. Business models are no longer based on [selling] widgets, … What's interesting about the new funding is that Wall Street [now] sees the future is in the subscription economy."

In the new economy, the focus is on recurring relationship as opposed to a buy and forget model. The subscription based model cultivates the relationship between a seller and a buyer and provides a valuable service, as a subscription.

More and more companies are switching over to this subscription based model. Thermo Fisher Scientific, which builds all kinds of scientific instruments and data analyses software, has quickly made the transition to this new business model.

As per its CEO Mark Field:
"It's more convenient for our customers and more flexible for digital product pricing," for it allows "more customer insights and [the ability] to offer other services as subscription."
He went on to say that not only was Zuora's solution "a good fit," because of the manner in which it "easily" integrated into their supply chain management systems and enterprise resource planning, moreover and very importantly "the implementation would cost less and [could] be delivered quickly."
Zuora's subscription platform is based on a tried and tested model and Tzuo informs that more staff will be hired to support analytics and other areas of this platform thanks to the new funding.
References:
http://venturebeat.com/2015/03/11/zuora-lands-a-massive-115m-as-the-world-goes-as-a-service/