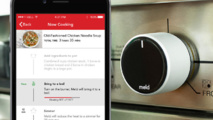 Seattle – 09 April 2015 – Aaron Tilley, a staff of Forbes, writes about a new "Smart Stove Knob" which can be controlled by a smart phone.
In the 21
st
century with the arrival of automatically driven cars to remote controlled fans and doors or even
an entire household's electronic gadgets
being managed through your smartphones, the next obvious thing that can happen is to control the cooking through your smartphone as well.
Therefore, terminating further delay, a Seattle-based starup company has come up with just what you require. However, unlike any other "smart" devices which require a separate set of appliances, Meld adds a new angle to the "Internet of Things", as Aaron Tilley puts it.
Meld is a smart knob which allows your present stove to be linked with your smartphone. It has an innate motor which "automatically adjusts the temperature on your stove based on specific recipes programmed into the Meld app". The app can also perform a certain degree of precision in setting a customized temperature for various recipes. It is pair with a Meld "temperature clip" which it accesses through low energy radios of Bluetooth technology. Consequently, the Meld App coordinating with the Meld "temperature clip" achieve a programmed temperature precision.
The C.E.O. of Meld, who is also a cofounder of the company, Mr. Jon Jenkins says:
"They say baking is a science and cooking is an art, but the temperature part of cooking is very scientific. What we tried to do part is take the part that's science and what humans are bad at and let you do the part that's art — the flavor."

Kickstarter has launched the said product, the Meld knob along with Meld temperature clip, on 07 April 2015, which is available at $99 on pre-orders whereas the actual market price would be $129 once the pre-order offer ends. The knob with its seven different adapters can fit onto "almost any stove". In case, you don't want to control the temperature through an app, the knob can be used like a regular one.

The Meld app enables you to choose the recipe you desire in your smartphone which the programme "loads onto the knob" as it contains an inherent "32-bit ARM processor" along with "on-board memory". Consequently, the knob can still refer to the selected data and function accordingly even if the phone is not in its vicinity.

The Meld technology has been designed keeping the recent global culinary trend of precision cooking in mind. The said trend proves useful for cooking meat and dairy products by using plastic bags and water baths to cook vegetables and meat in a precise temperature.

The company has its plans on working with "other connected kitchen devices" after the successful campaign with Kickstarter, which generated a sum of almost $50,000 within just twenty four hours. The cofounder of Meld, Jenkins says:
"There's lots to be done in the kitchen. A lot of kitchen manufacturers are great at building appliances, but not good at software. We're bringing a bit of software knowledge to the cooking domain. It's a fertile area. A lot can be done with things like a microwave."