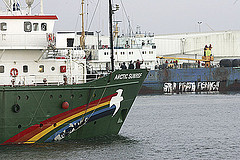 The United States Navy has sent a destroyer toward the Persian Gulf on Tuesday after Iran was unrelenting in giving away the control of a Marshall Islands-flagged cargo ship after accusing it of trespassing in territorial waters, The Wall Street Journal reported.

The ship under question, the Maersk Tigris has 24 crew members on board. The Iranian forces fired shots across the ship's bow, the Pentagon confirmed, after its captain declined an order by the forces to divert farther into Iranian waters. It was stopped by Iran's Islamic Revolutionary Guards Corps Patrol while it was cruising through the Strait of Hormuz.

After the initial firing, the ship sent out a distress call, prompting the United States Navy to direct a destroyer, the Farragut, to the area and to put aircraft on standby to monitor the situation.