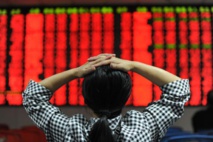 A few U.S investors think the Chinese intervention to prop up its crumbling stock market has not had its expected results. With the prices of stocks reaching a new low, the present provides an opportune moment in acquiring a new position in its stock market.
The Chinese stock market saw a three week continuous slide, which finally came to rest following its securities regulator banning sale of stock by large shareholders. This fall wiped off around $3 trillion in market value in its biggest ever drop which saw the Shanghai Composite Index fall by almost one third of its value.
In order to stem the fall, Chinese regulators had toyed with cutting interest rates, suspending the listing of new IPOs and enlisted brokerage firms to artificially boost the index by buying stocks supplied from its central banks.
These moves had an opposite effect: panic selling spread to Hong Kong's Seng index.
Charles Wilson, a co-portfolio manager of the Thornburg Developing World Fund, said, "You've had some misguided efforts to cushion the sell-off and that's ultimately led to the unintended consequence of making the situation worse." He has been picking up internet and utility stocks over the last few days.
Hong Kong's Hang Seng index fell by a record 5.8%, its biggest ever fall this year. Unlike its Chinese counterpart, it climbed up by 3.7% though.
This panic driven sell-off was the widest ever seen in China, since the global financial crisis in 2008. Moreover, this was despite of the Government's best efforts.
"The Chinese government is fighting a very, very tough fight to stabilize the market. But it is concerning that the government doesn't allow market forces to work, and that's something China must change over time," said Christopher Moltke-Leth, head of institutional client trading at Saxo Capital Markets in Hong Kong.
Since, the fallout has most affected upper class speculators who hold A-grade shares, U.S investors are still hopeful that the regular consumer spending will expand. Thornburg's Wilson says the volatility in the market may in fact make it more attractive in the long term, even though the market has still not touched rock bottom.
Emily Alejos, a portfolio manager from Nuveen Tradewinds Emerging Markets slyly noted that companies who focused on domestic consumption in China are low hanging fruits.
"For a long-term investor, some of these [H-share] valuations are quite compelling," she said. The steep decline in the stock market has not really affected her outlook of the Chinese economy since these loses in wealth are not going to have a direct bearing on the expected growth of its GDP at 7%.
"If you look at the Chinese market, it's a bipolar market with the high growth A-shares trading at very expensive valuations and the H-shares trading below 10. It's probably the cheapest major market in the world," said Frederick Jiang, co-manager of the Ivy Emerging Markets Equity fund, echoing similar sentiments.
References:
http://www.reuters.com/article/2015/07/09/us-china-markets-insight-idUSKCN0PJ0F520150709