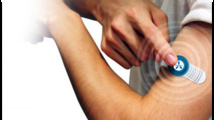 Boulder, Colorado – 21 May 2015 – Bussiness Wire reports that connected wearable "patches" now comprise of "patches, tattoos or small devices" that are usually fixed on the skin only "for a limited period of time" as wearables. The said time frame can range from "an hour to several weeks" on a trot. The patches have also been known to possess an element associative wireless connectivity inspired by a health, medical, and wellness purpose-driven uses ranging from "monitoring physiological" data to the delivery of medicines as well.

Owing to an unprecedented rise in the healthcare costs accompanied by growth in the number of people with chronic and terminal diseases and not to forget the ageing population, there is no doubt that connected wearable patches are nowadays advancing towards "becoming an attractive solution" for the government bodies, "insurance companies" and "care providers" as well.

Furthermore, the Business Wire writes, in the words of the principal analyst, Charul Vyas:
"The nascent market for connected wearable patches holds great promise, with the potential to improve the health of patients and contribute to lower healthcare costs. It is, however, still very much in the early stages of development and commercial availability. Connected wearable patches face a variety of challenges that must be overcome in the next several years in order for the market to thrive."
According to Tractica's recent reports, the global shipments "unit" of "clinical and non-clinical connected wearable patches" are likely to grow to "12.3 million" by the end of 2020. The said figure was recorded as "just 67,000" in the year of 2014. As per the forecast of the "intelligence firm" of the market, during this estimated period of growth, the annual rate of the wearable patches' market will be increasing to $3.3 Billion per annum .
The aforementioned Tractica's report on "Connected Wearable Patches" exploring the given environment of non-clinical and clinical type, basically scrutinizes the "market trends", differentiates the barriers from the drivers, studies the applications and use cases of wearable patches, along with other technology oriented issues and not to mention also the key industry players for the profuse utility of connected patches. It associates the presentation of "forecasts for unit shipments", along with ASPs and revenues in "segments/use cases" throughout the six-year period, starting from 2014 till 2020.
On Tractica
Tractica can be basically referred to as a "market intelligence firm" that typically focuses on the aspects of "human interaction with technology". The global market research of Tractica and its "consulting services" aims at combining the attributes and assets of methodologies associated with quantitative and qualitative research so as to bring forth the provision of a holistic view of "the emerging market opportunities" which encompasses the "entities" of Biometrics, Wearable-Devices, Automation, Digital Health and other such user-interface technologies.
References:
http://www.businesswire.com/news/home/20150518005480/en#.VVsWvrmqqko