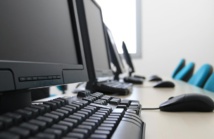 cherryolive
As defined by the American Marketing Association, brand equity is value of a brand. However, there are different definitions of this concept, so there is no single way of measuring the quality.

Despite lack of any uniform system to measure brand equity, Interbrand and Millward Brown Optimor composea rating, which is considered as highly respected.

Interbrand describes this method as "proven, effective and in-depth." The ranking analyzed companies financial strength, as well as importance of the brand.

Below are the 10 most valuable brands in the IT field.

1. Apple. Brand value - $ 246 992 million

Apple Computer, Inc. had been official name of the company until January 9, 2007. Refusing "Computer" in the title shows shift of the corporation's main focus from the computer technology the the consumer electronics market.

The name Apple was offered by Steve Jobs.

During the long years of Apple's existence, the brand has got a lot of fans around the world. Many call it a cult. It's probably not in the specifications the company's products, but the design that distinguishes Apple as one of the most unique products in the market.

2. Google. Brand value - $ 173 652 million

Today, the Google brand is known worldwide. During its short history, the powerful company managed to win a significant share of the virtual services market. "To google" verb is commonly used in English as analogue of the phrase "search on the Internet."

Google's history totals a little more than a decade. Yet, during this time, it has become a large corporation with more than 70 offices in 40 countries.

Number of employees accounts for tens of thousands of people. The main office is located in Mountain View, California.

The European central office is located in a prestigious district of Zurich. The corporation is trying to create most comfortable working conditions for its employees. Therefore, many dream of working in the company.

Google Search quickly took over 60% of the global online market. Every day, the machine register more than 50 million queries and indexed more than 8 billion virtual pages. The system is multilingual and available to users in almost two hundred languages.

3. Microsoft. Brand value - $ 115 500 million

The world-renowned manufacturer of software for desktop computers, mobile devices, clusters, servers and game consoles. In addition to software, the company is also engaged in production of its own gaming consoles, music players and computer keypads.

The company's name is formed with two words: MICROcomputer SOFTware. Firstly, it was written through a hyphen: Micro-soft. The company's logo has been modified several times.

Today, the name is no longer true: the software is created not only for microcomputers, but also for high-end servers and the like.

Microsoft's history is the story of dizzying success and continuous development. The corporation repeatedly made mistakes and miscalculations, but was always quick to correct them, eventually winning more and more and setting new records in the field.

At the very start, Microsoft employed only three people (including the founders). Then by 2008, the number was over 80 th., in all offices scattered around the world.

4. IBM. Brand value - $ 93 987 million

Starting well before the computer age, IBM had a huge impact on modern computers.

IBM greatly contributed into development of the computer world. This is hard disk drives presented September 13, 1956, the first floppy disk developed in 1971, and the structured query language SQL, used by all relational databases.

The most importantl invention is IBM PC personal computer, presented in 1981. This computer started a new era - the era of the PC architecture.

Today, the company is engaged in production of supercomputers, high-performance servers, processors and software.

IBM is among the ten largest manufacturers of various electrical and electronic equipment around the world. Scientific development and consulting constitute a very important part of the company.

5. Tencent. Brand value - $ 76 572 million

Tencent is a Chinese telecommunications company (the largest Internet Service Provider), founded in November 1998 in Shenzhen.

The company is known for being involved in support for the most common network in China - instant messaging called QQ.

Becides, it is developing its own free E-mail client Foxmail.

June 16, 2004, the company held an IPO on the Hong Kong Stock Exchange.

Tencent is the main shareholder of Riot Games company.

6. Facebook. Brand value - $ 71 121 million

Facebook is one of the most popular social networks in the world. It has more than a billion active users, whose number constantly increases.

The project was founded on February 4, 2004 and was originally conceived as a social network for Harvard students only, but later the scope was expanded, and then completely blurred.

7. Baidu. Brand value - $ 40 041 Million

This is a Chinese search engine similar to Google. Baidu controls 79% of the local market for Internet search.

The company began to grow rapidly after Google in China came under censorship in 2010.

According to the number of processed requests, Baidu ranked third in the world (3, 428 million with share of 8.2% of the global search), which, in general, is obliged to the number of domestic users.

Baidu also launched a Japanese version of the search engine (the first overseas). The search engine has its own online encyclopedia, which surpassed popularity of Chinese Wikipedia.

8. SAP. Brand value - $ 38 225 million

SAP is a well-known company of German origin, whose activities are related to software production. It was founded in 1972 by five managers who previously worked at IBM.

Hasso Plattner, Klaus Wellenreyter, Dietmar Hopp, Klaus Tschira and Hans-Werner Hector, summarizing all the expertise they possess, decided to offer their own way of doing business.

Their brainchild was named Systemanalyse und Programmentwicklung ("Systems analysis and programming") and originally was located in Mannheim, Germany.

To date, the company's main focus is development of automated control systems for external processes of companies (accounting, trade, production, finance, personnel management etc).

It is also important that all applications developed by SAP are in accordance with legal context of every customer country.

In addition to supplying software, company also provides services for its implementation basing on its own unique methodology.

9. HP. Brand value - $ 23 039 Million

The company's history dates back to 1934. That's when two graduates of Stanford University - Bill Hewlett and Dave Packard – came across each other. The name arose from a simple combination of the friends' names.

To date, HP is one of the largest manufacturers of server devices, printers, scanners, desktop computers and laptops. The company is also well-established on the market of digital cameras, PDAs and smartphones.

10. Orakle. Brand value - $ 21 680 million

The American corporation Oracle has a history of continued success and continuous development. One of its founders - Larry Ellison - is one of the most interesting and well-known personalities in the world.

It all began in 1977 when former employees of a software developer Ampex decided to found their own company called SDL - Software Development Laboratories.

These were Larry Ellison, Bob Miner and Ed Oates. Their former job working on a CIA project named Oracle.

And that's what they decided to call a database management system created by them.

Oracle's history knows a lot of interesting facts. It would not be an exaggeration if we say that this is one of the most famous brands on the market.