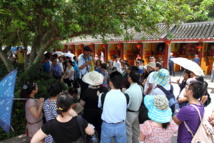 Ctny
The slowdown of the Chinese economy has not backfired on the activity of Chinese tourists. According to China's largest tourism site Ctrip, the number of Chinese citizens making foreign voyage will increase to record 6 million in 2016, which is 15% more than last year. Chinese New Year, which is celebrated according to the lunar calendar, falls on 8 February this year, so the related holidays will last for the entire next week.

According to the China National Tourism Administration, number of tourists travelling abroad amounted to 120 million citizens in 2015. Thus, the total flow increased by 20% in comparison with 2014 (109 million). According to a research firm GfK, Chinese tourists spent abroad $ 229 billion in 2015. In 2014, this amount totaled $ 165 billion. Countries such as Thailand, Japan, South Korea, Taiwan, Singapore, Hong Kong , United States, Indonesia, Malaysia and Australia are major habitats for Chinese travellers. As stated by Brian Buchwald, CEO of Bomoda, engaged in research of consumer behavior, Chinese tourists find Japan and South Korea most favorable for chopping. This year, the Chinese are showing a heightened interest in these countries due to concerns about security in Europe after the November terrorist attacks in Paris. Strong dollar also plays its role.

Experts expect significant growth in tourism in and out of China during the coming years. Such a suggestion is partly obliged to mitigation of visa regime with some countries, including Japan and the US, as well as with the growth of Chinese income. According to a report of Credit Lyonnais Securities Asia released the 2014, the number of Chinese tourists traveling abroad will reach 200 million per year by 2020.

In late 2014, the British travel agency VisitBritain launched an extensive advertising campaign "Great Chinese names for Great Britain", which purpose was to attract more tourists from the world's most populous country. Chinese tourists had difficulties in navigating in the United Kingdom and memorizing complicated names of British landmarks and popular places. So, the agency decided to rename some attractions to make them sound clear and euphonious for the Chinese. Selection of titles involved the Chinese themselves, who sent their proposals to a special website. Total number of suggestions exceeded 13 thousand names for 101 popular sites, including historical monuments, cultural centers, architectural monuments, memorial sites, natural attractions, restaurants and shops. The selection was based on Like button voting.

The UK's benefit from the influx of Chinese tourists is obvious: in 2013, Chinese visitors spend average of £ 2508 per trip in the UK, while all foreign tourists spend an average of £ 640 per visit. In 2014, the country was visited by 156 thousand travelers from China, what brought £ 411 million to the local budget.

A large influx of Chinese tourists is now seen in Hong Kong. According The Financial Times, there were only a few thousand of them in 2003. Yet in 2014, the number reached almost 50 million, despite the fact that there is only a little more than seven million of Hong Kong's residents themselves. Therefore, the locals have a completely different attitude in contrast to the British experience. They call visitors from China "continental locusts" and get up protests in shopping malls of Hong Kong. The reason for this is that Chinese tourists flood Hong Kong stores and literally sweep all products. Many of them resell the goods purchased in Hong Kong in China at higher prices. Now, some stores in Hong Kong have begun to focus on the Chinese buyers rather than locals, who are greatly disturbed by this. After last year's massive pro-democracy protests called Occupy Central, speaking out against the influx of Chinese tourists became more active.