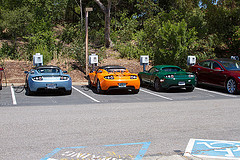 US-based electric car maker Tesla's CFO Deepak Ahuja has announced his retirement later this year.
Tesla will announce the replacement by the year end, according to a disclosure made in the company's annual shareholder meeting.

Ahuja had been instrumental in the exponential growth of the company from its startup origins. He is one of the longest serving executives in Tesla, where he joined in 2008 and led the company through a successful IPO.

While announcing his retirement, Ahuja noted that there are other things to tick off from his bucket list. He called his times at the electric car maker a 'non-stop adrenaline rush'. The company's CEO and founder Elon Musk also paid his tributes to the retiring CFO at the meeting. "Together, we overcame the challenges of the early days at Tesla," Musk said in a statement. "As our first CFO, he guided us through several investment rounds, led the effort to take Tesla public, helped us become a strong business based on solid gross margins, and built a very strong finance team."

With regards to Musk's other company, Space Technologies Corp., he said that he wouldn't file for a public offering any time soon. "We will probably go public once we have regular flights to Mars," he said.

Tesla also noted that model X sport-utility vehicle would start deliveries in three and four months and is looking to bring the vehicle on the market within the end of the year. Another update from Tesla was on the much anticipated autopilot feature developed for newer versions of its Model S car. The feature, expected to allow autonomous highway driving customers, will be made available as an early access later this month.