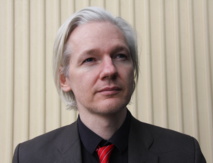 Espen Moe
Swedish prosecutor's office intends to interrogate in London WikiLeaks founder Julian Assange, who is suspected in Sweden with rape and sexual harassment.
Marianne Ny, the prosecutor, today sent a request to Julian Assange's lawyers about his consent for questioning in London and taking DNA samples, - said the Swedish Prosecution Authority to the press.
If Assange agree, the Swedish prosecutor's office intends to then send a request to British law enforcement agencies to assist in the conduct of investigative activities. Also, in this case the prosecution intends to apply to the authorities of Ecuador for their agreement on the work of investigators in the Embassy in London, where Assange is hiding.
What Assange is suspected?
Julian Assange's name became widely known in Sweden in connection with the investigation launched in the summer of 2010 at the request of two women 25 and 35 years old. They told the police that they suffered from Assange's sexual harassment, who was in Sweden for the conference and for his lectures in August of the same year.
Suspected had been arrested in London in December 2010 at the request of the Swedish law enforcement officials, who insisted on the extradition of Assange in Sweden in the case of rape.
At the end of May 2012, the Supreme Court of the United Kingdom after familiarization with the case said that there are no obstacles to extradition of Assange to the Swedish authorities. The Court confirmed its decision on June 14 of that year.
Assange himself all the time denied any involvement in the crimes of a sexual nature.
In June 2012, it became known that Assange came to the Embassy of Ecuador in London and asked the Ecuadorian authorities with the application for political asylum because of fears for his extradition by the Swedish authorities in the United States in connection with his activities in the WikiLeaks.
In June 2012, Assange was granted asylum in the Embassy of Ecuador in London, where he is since then. British police have promised to detain WikiLeaks founder as soon as he leaves the diplomatic mission, as Julian suddenly violated the terms of his bail, hiding in the territory of the Ecuadorian embassy. In August last year on a held within the walls of the embassy's press conference, Assange said that despite considerable pressure, his refuge is protected by Ecuador. According to him, people saw the violation of his rights. He also recalled that he had not been charged with any offenses in the UK or in Sweden.
On the question of his health creator of "Wikileaks" said that in recent years, with no access to the outside world and to sunlight (which, according to him, will cost 7 million Pounds to British police), he was in such an environment, in which "any healthy person will soon find himself in some problems." -
Reuters