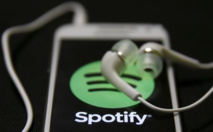 downloadsource.fr
Swedish service Spotify, which offers streaming music, appeals to raise funds from investors for the seventh time. At this time, the company, according to The Wall Street Journal, is in talks with investors about investing $ 400 million in it. As a result, the overall Spotify's assessment will grow to $ 8.4 billion. According to the WSJ, Goldman Sachs Group and sovereign investment fund of Abu Dhabi have expressed their willingness to participate in this round. Previously, there were Accel Partners, Kleiner Perkins Caufield & Byers, Coca-Cola, Fidelity Investments, Wellington Partners and others. Financing conditions in the new round have already been agreed and, as expected, the transaction will be carried out in the coming weeks.
The investment will allow Spotify to become one of the most expensive private technology companies in the world. According to analysts of Manhattan Ventures Partners company, in 2014, Spotify's revenue accounted to $ 1.3 billion. However, the service is not profitable now. Almost 70% of the company's revenues are used to pay copyright holders. At the moment, Spotify has about 60 million users, 45 million of them have free account, and only 15 million subscribers paying $ 9.99 per month for use of the service.
In January, Spotify has announced that the number of users of its music service has reached 60 million, of which 15 million monthly pay for expanded access to digital music collection, numbering tens of millions of records. In early November, a paid subscription enjoyed 12.5 million people.
It turns out that in the last two months of 2014, the number of paying Spotify's subscribers increased by 2.5 million, and new users' number (not just paying) has increased by 10 million. This increase is particularly noteworthy against the backdrop of increased competition from companies such as Deezer, and services like Apple Beats Music.
Obviously, Spotify will use published data as evidence of the success of its policy, which aims to turn the free version to the paid service. Free version is supported by displaying of advertising. Over the past year and a half, 25% of users of Spotify free version began to use a paid version of the service. Despite this, the business model Spotify is often criticized by music artists who believe the company pays them not enough money. Spotify is now in talks with major record corporations to extend the term of the license agreements expiring this year.
According to analyst music market's Mark Mulligan, data appeared on the growth of Spotify's popularity, 'can be very useful for us." Founder and CEO of Spotify Daniel Ek regularly publishes in his blog posts in defense of his chosen business model.
- That is indisputable, irrefutable fact: the vast majority of people listen to music for free, - says Eck. - If we want people to pay for it, we have to learn to compete with free services.
It seems that Spotify strategy to achieve this goal proved to be effective: in November and December, the popularity of the paid subscription has grown faster than in previous months. The company took six months to increase the number of paid subscribers from 10 million to 12.5 million.
- The winter holidays have been very favorable for them - says Mulligan. - If we look at the growth chart, we can see a turning point was reached in these days.
One of the factors of growth were promo discounts that Spotify recently offered in the United States and other countries. In particular, in the UK, where the total cost of a subscription to the service is 9.99 pound per month, students receive a 50% discount.
Established in 2008, Spotify competes with dozens of other music services, including proposals of giants such as Apple and Google. At the same time, Spotify's paid service last year was the most popular - the nearest competitor, French Deezer, has only 6 million subscribers. Overall, streaming music services have become so popular in the world that this has even been reflected in the market of traditional music downloads: in the past year, the number of downloads decreased for the first time in history in the UK and the US. Apple, whose iTunes service is the market leader in digital music, last year acquired streaming service Beats Music, bought audio equipment manufacturer Beats Electronics for $ 3 billion.
source:
bloomberg
.com