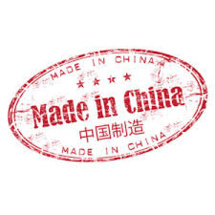 What do the Spanish football club Atletico (Madrid), the Italian tire manufacturer Pirelli and the French travel company Club Med has in common?
All of them, partly or wholly, got owned by the Chinese firms in recent months.
In the first four months of 2015, investors from China also took a part of the British travel company Thomas Cook's capital, saved from bankruptcy the German manufacturer of TV sets Metz and bought a Swiss marketing agency Infront Sport & Media, bargaining, in particular, the rights to television broadcasts of football world championships.
Soon, the Greek port of Piraeus, the Dutch insurance company Vivat and Italian football club AC Milan may go under the control of the Chinese people as well.
Those are only the most high-profile deals, caught by the news agencies and television newscasts.
Chinese business is targeting expansion in Europe (especially in Germany and the UK), and the pace and scale literally grow from year to year.
Germany makes a good example for this. According to estimates of the German branch of the international consulting firm Ernst & Young (E & Y), investors from China in 2009 bought two companies, in 2013 - 28 and in 2014 - 36. In the United Kingdom
these acquisitions over the same period increased from 13 to 26. The total number of such transactions in Europe since 2007 has tripled.
China also pays close attention to the field of investments. Chinese investors outran Americans even here: they accounted for 190 projects (an increase of 37 percent compared with 2013 year).
- We are preparing such reports since 2009 - tells Yi Sao, a GTAI expert on China.
- In that year, there were 84 Chinese investment projects.
In 2011, they turned out to have 158, and then, China has become the top investor in Germany, ahead of the US for the first time.
And now we have a new record.
However, the greater part of direct investment that Chinese companies sent in Germany, goes not in the deployment of production, but the discovery of marketing and service departments.
This, according to Sao, is largely connected with a favorable geographical position of Germany in the heart of the European Union and well-developed infrastructure: it is very convenient to provide services for both solvent West European markets and developing Eastern Europe.
Germany is also famous for its highly qualified staff.
Therefore, the Chinese send a lot of money in research and development activities.
The telecommunications equipment manufacturer Huawei may be considered as an example.
This particular Chinese group has units, including six research centers, in 18 German cities. It employs over 1,600 people across the country.
A total number of Chinese firms settled in Germany exceeded, according GTAI, 1300. And they have created about 16,000 jobs.

based on materials of
Deutsche Welle
(dw.de)