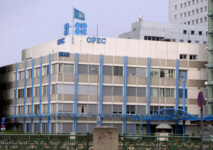 Näytä tekijätiedot
Saudi Arabia, the informal leader of OPEC, has expressed its readiness to support a reduction in oil production. The country is ready to take such measures if other members of the cartel, such as Iraq and Iran, as well as non-OPEC countries - Russia, Kazakhstan, Mexico and Oman, will make a similar commitment, reports Reuters citing Energy Intelligence. Prior to that, the kingdom has ignored calls to support oil quotes of other members of the cartel, whose budgets have suffered from falling commodity prices.

"Reduce in production requires participation of countries which are not members of the organization, and also Iraq - said one OPEC delegate to FT. - The situation with production in Iran should also be clear." Baghdad, for example, may receive an offer to refrain from increasing the current production level of 4 million barrels a Day. According to Energy Intelligence, Saudi Arabia will offer to cut next year production by 1 million barrels a day, which corresponds to slightly more than 1% of total world oil production. OPEC accounts for about 40% of world oil production.

At the same time, the organization's members have been exceeding the official quota of 30 million bbl. a day for the 18th consecutive month, says Bloomberg. According to the agency, oil output was 32,120,000 barrels a day in November.

Dim prospects

If consensus is reached, the decision will come into force not at the next meeting of the organization, held in Vienna on 4 December, but the next year, said Energy Intelligence. In the meantime, the cartel will continue to produce oil at the same level in order to squeeze out competitors from the market, predict 30 analysts surveyed by Bloomberg. Thursday, oil prices is rising on statements from the Saudis.

Saudi Arabia is one of the cartel's countries acutely dependent on high oil prices to balance the budget. For the kingdom, whose share of the overall structure of OPEC production is 32%, the figure is $ 106 per barrel. Now the oil benchmark WTI and Brent are at $ 40.53 and $ 43.28 per barrel, respectively. In view of the forecast cost of Brent at $ 57.5 per barrel in 2016, only one member of the organization (Qatar) will be able to balance its budget.

Since the previous OPEC meeting held in June, oil futures fell more than 25%. Then the cartel decided to leave the official quota unchanged, just like at its first meeting after the oil prices collapse in November 2014.

Baghdad and Tehran accused Riyadh that the kingdom benefits from their difficulties and increases their own production at their expenses. According to FT's source, no agreement on reducing production will make sense until Iran loads its production capacity by 100%. Tehran expects to be able to increase production by 0.5-1 million barrels of oil next year. Nobody knows exactly how much they can produce, explains FT's source. Oil production in Iran reached a level record since the summer of 2012 - 3.3 million bbl./day, according to the US Energy Information Administration. The second largest oil producer within OPEC promises to increase production quickly when international sanctions are removed from the country. According to forecast of Iran's Deputy Foreign Minister Abbas Araghchi, this process may begin in January 2016.

An effective strategy

Oil prices fell by more than half during 1.5 years after OPEC began to put pressure on prices. Such a policy started to press US shale companies, Canadian oil sands producers, and Brazilian companies engaged in deep-water drilling. The Saudis have noted that this strategy works, yet causes OPEC's weaker members to bear high costs - the collapse of oil prices devastated the budgets of Angola, Algeria, Nigeria, as well as some of the traditionally stable countries of the Persian Gulf.

Venezuela calls for an informal gathering on the eve of the cartel's formal meeting on Friday, December 4, in order to align 5% reduction in production to support prices. Mehdi Asali, representing Iran in the cartel, said on Wednesday that the majority of the members supported the reduction of OPEC quotas, yet it is unlikely that the decision will still be accepted.