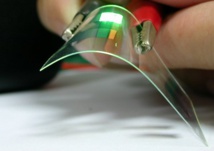 meharris
Samsung expects to release a flexible smartphone in 2016 - the company spokesman announced in interview to BusinessKorea.
- According to industry players, placing of such devices on the market will be possible already next year, - he said.
Let us recall that Samsung is the largest displays manufacturer in the world, and in general is known in the world market as a manufacturer of high-tech components, telecommunications equipment, household appliances, audio and video, headquartered in Seoul.
In 2013, the company had already talked about bendable smartphones (that are flexible and able to change shape without breaking).
Such gadgets vendor expected to launch in 2014 or early 2015, but no further announcements were made.
To create a flexible smartphone it is necessary to display, battery and electronic circuitry can be bend.
Samsung has demonstrated a flexible display back in 2010. In October 2014, the vendor showed a similar battery.
In addition to the bendable smartphones in 2013, Samsung representative mentioned devices, which can be fold and spread back.
So far, these devices could only be seen in science fiction films, but they may become a reality due to the creation of flexible displays and other components.
As for the transparent display, the LG has been developing it for quite long time.
The company demonstrated a transparent screen with a diagonal of 47 inches, made by technology IPS, in 2011. Last year, the developer submitted a display with similar properties, but executed on LED technology (OLED).
Its diagonal is 18 inches.
As LG's representative said in BusinessKorea publication, creating a transparent display (which looks like a flat glass with an image displayed on its surface) is complete.
He said that the company has developed a demonstrator device, but it will take some time out to explore the market and start new panels mass production.
The expert did not specified how much time it can take.
Transparent displays, according to LG, would be useful in the advertising industry for shop windows design, and also may be used in home appliances.
Samsung and LG together occupy more than 50% of the global display market by revenue.
source:
businesskorea
.com