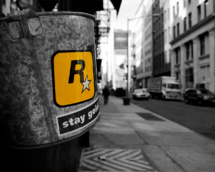 May 21, the famous developer of computer game Grand Theft Auto (GTA) Rockstar Games through its parent company Take-Two Interactive has filed suit in a London court to British media corporation BBC.
This was announced by the famous site IGN, specializing in news from the world of computer games.
IGN published a statement by Rockstar Games, according to which «Take-Two Interactive has filed a lawsuit against BBC for trademark infringement in connection with the film 'Game Changer', which is dedicated to video game series Grand Theft Auto, developed by Rockstar Games».
The company indicates that, despite the references to these games in advertising campaigns and the title of the film, Rockstar Games has no relation to the film.
The company's goal, according to the statement - to prevent BBC's use of brands owned Rockstar Games in the film, which is an informal account of the events of the history of the company and the creation of which channel did not consult with the developer of the game.
According to Rockstar Games, they tried to resolve the issue with BBC, but did not achieve any results.
"Our duty is to protect our intellectual property, and, unfortunately, filing a complaint in this case was necessary," - said in the statement.
BBC refused to comment on the situation.
Filming "Game Changer" started in April, it must be completed by the end of this year.
The film is part of a series of BBC films, devoted to computer games and programming.
In the center of the film - the confrontation Rockstar Games and the US attorney Jack Thompson, who is trying to ban "cruel" computer games, which promote violence.
The role of the founder of Rockstar Games Tom Hauser in the film performs well-known actor Daniel Radcliffe, Jack Thompson - Bill Paxton.
In GTA, the player acts on behalf of the criminals who are given different tasks - to rob a bank, murder and so on.
The first game in the series was published in 1997, to date, the number of sold copies of the game has exceeded 200 million. The game GTA V, released in 2013, earned more than $ 1 billion for the first three days of sales.
source: ign.com