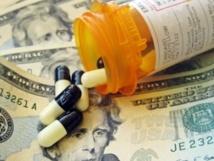 Images Money via flickr
Recent history of the global pharmaceutical industry is generally divided into "Era of Abundance" (until 2005) and "Era of Deficit" (after 2005), the Thomson Reuters' report said. In the 1990s, the FDA had been approving 35 drugs per year, with a peak of 56 drugs in 1996, Morgan Stanley's analysts wrote in a study of the pharmaceutical industry, published in December 2014. According to them, the industry has gone into recession from beginning of the XXI century: from 2000 to 2010, the FDA granted permission for registration of only 25 new drugs annually. In 2007, the FDA allowed to register only 18 products, according the Morgan Stanley's data. In the world from 2005 to 2013, annually were recorded 21-31 new molecules, notes Thomson Reuters' report.

Number of registered new drugs declined amid rising R&D costs for companies - from $ 20 billion to $ 50 billion between 2000 and 2010, Morgan Stanley's analysts estimated. According to a report of Roland Berger Strategy Consultants (published in 2013), over the past 10 years, spending on R&D worldwide grew by more than 80%, while 43% less new products were registered. In 2014, $ 51.2 billion were spent on R&D, that is, $ 400 million less than in 2013, according to a study of Pharmaceutical research and manufactures of America (PHRMA).

Companies could have afforded to increase R&D budgets as in the 1990s they received profits from "blockbusters" drugs, such as anticoagulants, as well as from the first generation of biotech drugs (i.e. interferons) Morgan Stanley analysts wrote. Increase in R&D investments was also caused by growing complexity of biological targets and strengthening supervision of regulators over production of cheap generic drugs - analogues of original products.

Cost of research is growing, and their performance falls, admitted board member of GlaxoSmithKline (GSK) Moncef Slaoui in 2013. According to him, the company's research effectiveness increased when GSK has reduced number of R&D -centers by 40%, closed 45% of capacities, and the team has decreased by 6,000. As a result, development costs per drug reduced, and registration success rate increased to 85%, added Slaoui.

Pharmaceutical companies have to adapt their business models and take into account several factors: small commercial return on R&D, slowing revenue growth due to expired patents and price pressure of competitors, says Morgan Stanley. A patent for exclusive drug sales remains in force for about 10 years old.

For example, Sanofi, one of the world's largest pharmaceutical companies, in 2010 lost 1.5 billion euros from the competition with generics, said the company's CEO Christopher Viehbacher. In 2012, sales of another large company - AstraZeneca - fell 15% due to loss of exclusivity on a number of drugs, the company wrote in the report for 2012.

"I needed to restore the company" – AstraZeneca CEO Pascal Soriot in 2013 described the tasks set by shareholders (he took charge of the company a year before that, in autumn of 2012). "We was running out of a large number of patents on medicines, and the company's R&D division produced just a few products for previous years," - he complained.
A year later Soriot rejoiced: "In the first half of 2014, number of our developments increased by 14%. Our 2020's goal is to become a leader in oncology, treatment of respiratory diseases, cardiovascular diseases, diabetes."

Companies seek to minimize the financial and time damage, which they suffer in case of failure of a drug during the test, and minimization methods are being continuously improved, the Thomson Reuters' report says. Therefore, more drugs reach the third and last phase of clinical trials, and thus increases speed of creation of potentially successful drugs.

Morgan Stanley analysts note return of investors' interest in R&D. They attribute this to scientific advances in understanding of various diseases, such as hepatitis C or orphan diseases (diseases, which affect very small number of people, but the therapy is usually expensive). One-third of new molecules, discovered in 2014, is designed to detect rare diseases, especially cancer, says Thomson Reuters. More than 65% of drugs, registered by the FDA in 2014, refer to a special category of drugs designed to combat cancer, hepatitis C, and HIV. Regulators have assigned orphan status to most of them.

The 2014success is based on changes in portfolio development and strategies, explains José Antonio, director of projects in the field of Life Sciences, a division of IP & Science of Thomson Reuters. Several years ago, pharmaceutical companies changed approaches to R&D and focused on rare diseases, he adds.

Now there are few leading themes for the studies: treatment of neurodegenerative diseases (e.g. Alzheimer's disease, Parkinson's), cancer, affecting millions of people, and inflammatory diseases, says Slaoui. According to him, inflammatory processes trigger cardiovascular diseases that killed most of the population.

Companies give priority to development of anti-infective drugs, drugs for cancer treatment and orphan diseases - these areas have significantly unmet needs and demand, explain analysts of Morgan Stanley. Moreover, they are faster to bring to the market, compared, for example, with medicines for treatment of central nervous and cardiovascular systems - the market for such products is saturated, the company's analysts say.

Overregulation and restrictions on price mean that companies must prove the difference between new drugs from existing standards of treatment, explains Jose. In his opinion, if companies concentrate on developments in the field of oncology and rare diseases, it can reduce regulatory barriers, especially in cases where there is no treatment for patients with rare diseases.

Despite understanding scientific basis of diseases, pharmaceutical companies find drugs developing as a long, complicated and expensive process, the PHRMA study says: an average cost of developing a drug is $ 2.6 billion, including all failed attempts in the process of pre-clinical and clinical studies.

On average, development of a drug takes 10 years. According to statistics, at least 12% of potential drugs, that have reached the first stage of clinical trials, will receive certificates of the regulator. In the meantime, failures provide invaluable knowledge for researchers to create new drugs, the PHRMA study said.

Now, companies are more open to R&D, they attract research and academic centers, Morgan Stanley analysts wrote. In addition, it became easier to interact with regulators. Thus, standard terms of testing drugs in the past 20 years decreased two-fold, from 20 to 10 months.

According to Morgan Stanley, new drugs have a more powerful commercial potential than the drugs registered in previous years. Approximately 5% of global drug sales occurred for drugs, that put on the market in the past five years, the remaining 95% - sales of previously registered drugs, follows from the Thomson Reuters report.

Global sales of medicines in 2014 crossed the mark of $ 1 trillion, an increase of more than 5% compared with the previous year, according to Thomson Reuters. By 2018, sales will have grown to $ 1.3 trillion.