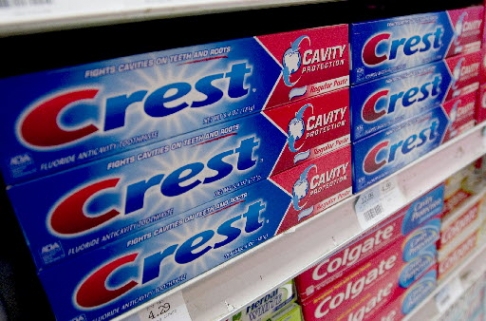 China fined Procter & Gamble Co's Crest about $1 million claiming for false advertising. It is alleged that the commercial used a digital software to overplay the impact of its toothpaste. According to The Shanghai Municipal Administration of Industry and Commerce, the commercial was featured by a Taiwanese celebrity and the digitally altered images displayed her teeth more white. The company marketed its product in China claiming that it facilitates in removing the stains thereby making the teeth whiter.

In response, the P&G's Crest division said that the advertisement has already been removed from broadcast since mid of 2014. It further added that "one-day whitening" in the commercial meant it only when both techniques including use of the toothpaste along with application of correct technique in brushing an individual's teeth. Besides, all the product of P&G underwent a thorough testing and legal compliance prior to its release in the Chinese market.
Chinese authorities have augmented their scrutiny over foreign companies by initiating investigations in malpractices across varied sectors from automobile to pharmaceuticals. According to a survey by American Chamber of Commerce, the Chinese regulatory authorities are aiming foreign companies rather than domestic.

There have been series of instances where foreign companies witnessed strict scrutiny under China's government for different matters. Last month, Qualcom Inc. was fined an amount of nearly $975 million for violation of anti-monopoly act of China. While, in the year 2015, Bausch & Lomb Inc., Johnson & Johnson, and other eye-care companies were claimed for a charge of more than $3.04 million, for illegal fixing of price in the eye care market of China. Even, Apple Inc., the technological giant was fined $118,000 against copyright infringement.

Toothpastes can barely whiten tooth except cleaning and anti-acid effects. According to industry regulations, the manufacturers must show the evaluation report of the related product. However, advertisers create computer graphics in order to exaggerate the effects, which basically does not exist. Moreover, consumers are unable to evaluate the truth behind fake commercials. Majority of the consumers have become habituated to these kind of exaggerated commercials.

The brand has apologized to the consumers said that they make quality oral care products and will continue their attempts to do better. For many years, advertisers were allowed to make large claims for their products in china's market and thus large companies rushed to the nations for targeting the rapidly growing middle class population.

Eventhough the P&G's fine was much less, the steps taken by the Chinese authorities signals their desire for increase enforcement of consumer protection acts. It is likely to create a large impact over the advertising as well as marketing strategies of consumer personal care companies, which is hugely reliant upon TV commercials that amplify the effect of their products. Now, they will have to be more cautious than earlier. All this indicates that China's legal environment is changing and law enforcement is becoming stricter. It will not be surprising if the China's consumer law standards reach as high as the US and the UK.