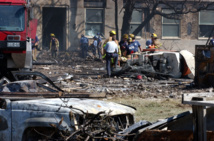 U. S. Naval photo by Photographer's Mate 1st Class Michael W. Pendergrass
One of the latest technologies of NASA federal agency recently allowed to save the lives of four people trapped under the rubble after the devastating earthquake in Nepal.
In this case, we are talking about high-tech system NASA FINDER (Finding Individuals for Disaster and Emergency Response), which tracks the heartbeat of people by means of microwave radar. Innovative system NASA FINDER - a joint project of NASA and the Office of Science and Technology Department of Homeland Security. Two such systems with the weight and size of a normal case have been transferred in Nepal to provide humanitarian assistance.
NASA FINDER system can detect the human heart in a depth of 9 meters and 6, if people are under the rubble or concrete, respectively, or at a distance of 30.5 m in open space. It is able to locate a living person with an accuracy of 1.5 m. Furthermore, FINDER can distinguish human hearthbeath from animals that allows not wasting precious time in vain during rescue operations.
- The real test for any technology is how well it works in the field, - said the representative of DHS Reginald Brothers. - Of course, no one wants disasters to occur, but tools like this are designed specifically to help people in the most difficult situations, - he added.
Currently FINDER is at the prototype stage, but in the future, NASA plans to display the apparatus on the market as a commercial product. NASA FINDER System not ends in the aftermath of this terrible disaster, which claimed the lives of more than 7.5 thousand people (at last count).
The space agency also uses its satellites to create a detailed map of the devastated areas such as the village Chatara. It is worth noting that there are other companies that tested emerging technologies during the Nepal's catastrophe: Skycatch drones delivering images when flying to assess the extent of destruction, and DigitalGlobe providing its satellite imagery for collective reports about the devastation caused.
Today FINDER can be represented in the United States in Lorton (Virginia) at the event, which was planned long before the earthquake in Nepal.
It is expected to be formally announced its withdrawal on the commercial market.
Thus, it will be possible to create devices for search-and-rescue teams all over the world.
Recall that the morning of 25 April, the earthquake of magnitude 7.9 occurred in Nepal.
According to recent data, the number of victims of the earthquake exceeded 7.5 thousand people.
Local authorities stopped the rescue operation a week after the tragedy, as they found that no one else can be saved.
source: mashable.com