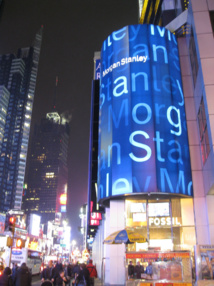 According to the report, the investment firm identifies Spain's TEF, Vodafone-ONO and Orange-Jazztel; German Deutsche Telekom, Vodafone-KDG and Telefonica Deutschland; and Orange, Numericable-SFR and Iliad in France as the important blue chip companies which have consolidated the European telecom market. But the unique case with the UK market is that it has narrowed in on five companies, with Sky Telecom UK acting as the game changer with its mobile and quad-play services.
The report compares this scenario with the dominance of three blue-chip companies in other parts of Europe. Sky signed an agreement with Telefonica UK's O2 in January this year to enter the quad play market. Considering that the company penetrated the UK broadband market with admirable speed, Morgan Stanley is expecting the company to show the same edge in the mobile market.
Meanwhile, Vodafone's imminent foray into broadband services for residential customers in the UK has also been highlighted by Morgan Stanley as a game changer. The company is expected to use the fiber network that it got with a recent acquisition of Cable and wireless to enter the TV market by the end of this year. The analysts point that Vodafone will concentrate on niche services like Cloud TV which will do away with the traditional set-top boxes. But the investment firm also is wary of the move as Vodafone had not seen much success in cross-selling its broadband services to its mobile users in markets such as Germany, Italy and France.
Another change in the UK Telecom market in the recent past is the growth of Virgin's UK user portfolios through the company's
five-year Project Lightning project
. This project is likely to bolster the company' fixed line coverage in the UK to approximately 4 million households.
UK's telecom giant BT's acquisition of EE last month is also part of the note from Morgan Stanley. The firm notes that this move will give momentum to BT's quad-play empire. The report states: "We would expect BT/EE to push broadband/TV via EE's 550 stores, use sports as a discounting mechanism for quad-play (like when bundling free sports with fiber) and push convergent family mobile plans."
The alleged merger of Hutchison's Three and Telefonica's O2 UK is the other point in the report. Morgan Stanley expects the merged unit to have pro-forma EBITDA uplift. The report notes that though the company will begin as an exclusive mobile player, "it may ultimately decide to explore an entry into UK fixed-line".
As far as exposure in the market is concerned, Morgan Stanley gives brownie points to Vodafone due to positive growth expected in Q4 and better operational leverage in 2015. Another company at the forefront is Liberty Global, thanks to the 15%-plus estimated annual free cash flow per share growth in 2015-2020.
reference:
http://www.digitallook.com/cgi-bin/dlmedia/news.cgi?username=&ac=&view=full&story=22556722