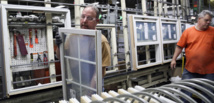 Minnesota
's robust business community have been managing to convert their personal successes into a collaborative effort to turn
Minnesota
's economy into a strong and constantly evolving one, according to the survey by The State of Manufacturing
®
. The survey also laid bare the concerns of the community in forms of impending shortage of skilled employees, government policies and costs of healthcare. The chronic deficit in terms of skilled laborers might mean that full utilization of the booming economy won't be possible.
This survey has been put forward by
Enterprise Minnesota
(
www.enterpriseminnesota.org
) and is the most comprehensive survey on
Minnesota
's
manufacturers
.
89% of the executives involved in manufacturing sector, a massive majority benchmark have spoken about their confidence in
Minnesota
's economy and this percentage is a record high in the seven year history of this survey conducted.
Among the concerns governing this industry, the cost of providing affordable healthcare to employees seems to be the major one taking up almost 56 percent of the concerns' survey. This marks an improvement in the figures though, as its almost 15% down from the 71% reported during 2011following the approval of the Affordable Care Act.
Minnesota
's environment for business was ranked by
manufacturers
at 43 percent serving as a potential hindrance to its growth, even though the number has seen a drop of five percent since that of last year.
According to industry experts,
Minnesota
manufacturers
are aggressively self-confident about their market outlook. Expanding economy and growing interests in the business community of
Minnesota
have contributed extensively towards this outlook.
This survey would be open for viewing and discussions in a series of briefings throughout the state of
Minnesota
from 13
th
May to 10
th
September in St. Cloud, Litchfield, Brainerd, Eagan, Winona, Moorhead, Alexandria, Elk River, Willmar, Albert Lea, Owatonna, Mankato, Red Wing, Duluth, Hibbing, Rochester, and Minneapolis.
Click here to register for State of Manufacturing events
.
Chief polling officer was Rob Autry of Charleston, SC of Meeting Street Research. The data mentioned on the survey was collected via telephonic communications with 400 manufacturing executives. The poll has a margin of error of +/- 4.9%. The data on survey is corroborated by 12 focus groups comprised of executives from around
Minnesota
.
Full survey top-line results and cross tabulations is available at
www.stateofmanufacturing.com
.
Statewide sponsors for The State of Manufacturing include:
Baker Tilly
;
BMO Harris Bank
;
Granite Equity Partners
;
Gray Plant Mooty
;
Marsh & McLennan Agency
;
Minnesota Department of Employment and Economic Development (DEED)
;
MRA
; and
Risdall Marketing Group
.
Meeting Street Research
is a leading national survey research company. Rob Autry has conducted all seven of The State of Manufacturing surveys.
About Enterprise Minnesota
Enterprise Minnesota
is an organization specializing in consulting with small and medium sized manufacturing enterprises to assist them in growing as a business comprehensively. It is also one of the 60 Manufacturing Extension Partnership (
NIST/MEP
) affiliates associated with the US Department of Commerce to help promote local businesses to grow with focus on international standards.
References:
http://www.businesswire.com/news/home/20150513005206/en#.VVsW_rmqqko