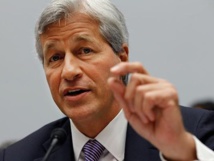 Thestrategist.media, Detroit – 18 May 2015 – JP Morgan's $100 million dollar commitment spread over five years just saw its first anniversary happen among renewed pledges to rebuilding
Detroit
's languid economy over at Capitol Park, the centre of continuing redevelopment. Since the announcement at May of 2014,
JP Morgan Chase
& Co. has already invested $34 million out of their total promised package and working on the whole
community
from ground up to provide a safe haven for development both in terms of economic growth and betterment of living conditions amongst the public.
Community Development
Nearly half of JP Morgan's financial commitment package has been pledged to developing the
community
especially real estate conditions in
Detroit
. From critical projects ruing the lack of proper financing to housing projects for mixed income households, JP Morgan has provided assistance. The renovation of two city landscapes of Capitol Park lofts and Detroit Savings Bank has also been undertaken. The ultimate goal is to create employment around housing, retail and construction sectors.
Workforce Readiness
With the help of certain non-profits, JP Morgan has chalked out an itinerary to link job seekers with specific skill sets for available jobs in the market. The grant of $500,000 has been put to great and efficient use by the city non-profit City Connect Detroit, on behalf of the Mayor's office.
Tackling Blight
JP Morgan has offered assistance in the form of a $5 million grant to create restoration program for restoration of homes plagued by blight. On offer is an extra $300,000 as assistance for making down payments for qualified low-to-mid income families.
Small Business Development
Small businesses form the backbone of any successful or stable economy hence the folks at
JP Morgan Chase
has continued to support
Detroit
entrepreneurs in their effort to expand or
grow
beyond troublesome conditions. Eastern Market with the help of JP Morgan has been able to create a space for food entrepreneurs to have business opportunities.
M-1 RAIL
In 2014, JP Morgan paved the way for the setup and construction of the 3.3 mile long light M1 rail project. This has helped connect healthcare, sports, education, cultural and economic activity zones in the city and also helped promote small businesses along the railway line. Better connectivity facilitates better business prospects.
Global Cities Initiative
JP Morgan has been helping
Detroit
turn into a lucrative investment zone for international financial institutions in attracting foreign investment to improve the economy by putting its global presence into great effect. The Global Cities Initiative, jointly run by Brookings and
JP Morgan Chase
inspires to create more jobs and redevelop
Detroit
's business sector.
Detroit Service Corps
Detroit Service Corps is comprised of a dozen or more top level managers from around the globe positioned by JP Morgan into
Detroit
's several non-profit organizations to help rebuild the city with the help of volunteers. Both
community
service and assistance for local financial institutions are covered by the Detroit Service Corps.
Financial Capability
In 2015,
JP Morgan Chase
has tied up with two local non-profits to impart knowledge regarding taxations and financial decisions involving savings, investment etc. Accounting aid for services such as maintaining ledger entries, preparing financial statements and payroll assistance is also offered.
JP Morgan Chase
& Co. is a leading financial services firm in the global business arena with assets of over $2.6 Trillion operating worldwide. JP Morgan's
Detroit
plans are an extension of the firm's sense of social responsibility and will to
grow
with the
community
that has helped build the company from ground up.
References:
http://www.businesswire.com/news/home/20150518005906/en#.VVsWrrmqqko