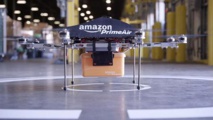 With Amazon's Prime deliveries being handled by the United Parcel Service Inc. instead of a private player in this field, the quality of service has become spotty, with the result that many online buyer's love affair with Amazon's Prime has passed its honeymoon period.
For Jason Jepson, a 40 year old communications consultant from Austin, Texas, it was love at first sight in the beginning, but when package after package starting getting delayed deliveries, it really got to him.
"Finally I called them up and said, 'Hey guys, this is getting ridiculous,'" Jepson said.
Amazon Prime's two day delivery promise is a big promise that comes with a sizeable price tag - $99 a year. This is up from its earlier $79 a year. It can be argued that packages getting lost in service, delays in deliveries are common and occurs on a daily basis. In fact as per a poll conducted by Ipsos/Reuters, 10% of Amazon's shoppers who chose a 2 day shipping method, responded saying their package delivery did not stick to schedule.
When this point was raised with Julie Law, Amazon's spokesperson, she cited internal figures of packages delivered with the stipulated deadline as high, within the "high 90s".
Researchers at Dealnews, a bargain hunting site, looked into the matter, specifically at the fine print of the Prime contract and came up with the discovery that late deliveries will usually qualify customers for a free month of Prime membership.
Dealnews staffers conducted a real world tests and scored free Prime memberships – not once but twice. It appears that this policy kicks in if if the delivery is just a couple of hours late. Customers can call, email or report late shipment on the website.
"Most people don't even know they can get some redress for late delivery. They aren't even aware there is an official policy offering refunds," said Benjamin K. Glaser, DealNews' features editor.
Amazon's Julie Law confirmed saying, "If for some reason our delivery promise hasn't been met, customers can call or e-mail and we can extend them an extra month of Prime membership. But we don't allow people to abuse that."
It makes good business sense for Amazon to pamper their Prime customers this way, since on average they spend $538 a year shopping on its website. As per a survey conducted by RBC Capital Markets, this is 68% more than non - Prime members. 61% of the respondents upped their spending after subscribing to Amazon's Prime membership.
Thus, despite of reports of late deliveries, many consider the Prime service to be worth the money. "You look at what you get, and it's actually quite a lot," says Tod Marks. "As annoying as it is to pay the $99, you can earn it back very quickly."
References:
http://www.reuters.com/article/2015/07/13/us-money-amazonprime-deliveries-idUSKCN0PN1N620150713