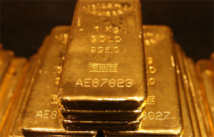 According to their calculations, just in two decades we will be out of gold, diamonds and zinc, and in 40 years, the reserves of platinum, copper and nickel will come to the end too.
- The combination of two factors - a very low concentration of metals in the earth's crust and a very small number of really high-quality deposits - indicates that we will experience lack of certain actually commodities, - wrote Eugene King, an analyst at the European division of Goldman Sachs in the industry sector.
He also noted that gold has been a measure of wealth for more than 4 thousand years, and even the ancient Egyptians understood that the metal is not only beautiful and brilliant, but also very rare.
- The relative scarcity and market confidence in the limitations of new fields will be the main driver of growth in the prices of these rare metals, - said King.
Moreover, experts predict that the peak of gold production will be reached this year, followed by a decline.
By the way, Goldcorp company also forecast that the industry will get the top of gold production in 2015.
Diamonds are also worth noting: their cost is mainly determined by just their rarity and, in the case of natural diamonds, uniqueness.
In general, the analysis of Mr. King may indeed be true, but only in the case if proven gold reserves actually start to decline.
Then, of course, there is already no matter what the amount of short positions in futures on gold is; it will still go up in price, high and fast enough.
Another question is what would happen if miners suddenly find new deposits of "yellow metal".
It also cannot be excluded, and thus the forecast of Goldman Sachs analyst is applicable only in part.
Generally, if the gold stocks really are being depleted, it could trigger a real war for gold, and interest in fiat currencies will disappear.
Demand from Asia
Supply reduction is only one of the possible causes of the rising cost of gold.
Experts voiced others probable reasons, like Asian demand.
It is Asia should become a locomotive for growth in gold prices.
Australia & New Zealand Banking Group predicts that in the short term prices will remain at $ 1,100 per ounce.
But then, the growth of wealth in Asia, the growth of investments and actions of central banks in emerging markets would lead to increased demand.
If the movement towards a more open China's economy will be problematic and the global financial turmoil continues, prices could rise to $ 3230.
Traditionally in Asia, people buy jewelry when wealth is on the rise, and in some countries, cultural aspects may explain the attractiveness and popularity of gold.
In the next decade, prices would skyrocket to $ 2 thousand.
Australia & New Zealand Banking Group estimate the probability of this in 45%.