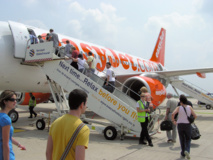 Adrian Pingstone
In 2015, almost 50 million more tourists traveled in foreign destinations compared to 2014. 2015 was the sixth consecutive year for an increase in tourism: number of international tourist visits during this period has been growing by more than 4% since 2010.

"International tourism hit a new high in 2015. The strong performance of the tourism sector have a positive impact on economic growth and job creation in different regions of the world. Therefore, it is important that countries promote policies to stimulate growth of tourism, including facilitation of travel, development of human resources and building sustainable development ", - said the secretary general of UNWTO, Taleb Rifai.

Overall, demand was high, although the data are different in different directions. It was caused by currency fluctuations, the fall in oil prices and other raw materials, which led to revenue growth in the importing countries and to a decrease in revenues in exporting countries.

"The results of 2015 were significantly affected by changes in exchange rates, oil prices and crisis in different regions of the world. Safety issues cause concern in the current environment, so we need to remember that the development of tourism largely depends on our common abilities to develop opportunities for safe travels. In this context, UNWTO calls on governments to include tourism management in the planning of national security, not only in order to minimize vulnerability of the tourism sector to the threats, but also to maximize support of the security and to remove restrictions from travel" - he added.

Growth trends in developed countries (5%) exceeded the growth in developing areas (4%); the most significant results were shown in Europe (5%). Europe, the Americas, Asia and the Asia-Pacific region - all of these areas experienced an increase of 5% in 2015.

Growth of tourist visits to the Middle East amounted to 3%, and in Africa, where access to the data is limited, was noticed a decline of 3%, mainly due to North African countries' weak performance, which accounts for over a third of all tourist visits to the region.

Positive outlook for 2016

Results of UNWTO Confidence Index are generally quite high in 2016, despite the fact that there is a slight decrease compared to the past two years.
Basing on the current trends and future projections, UNWTO analysts suggest that the number of international tourist visits will grow by 4% worldwide in 2016.
As for particular regions, Asia and the Asia-Pacific region are expected to show high growth (from + 4% to + 5%), as well as the Americas (from + 4% to + 5%), followed by Europe (from + 3.5% to + 4.5%). Predictions for Africa (from 2% to 5%), and the Middle East (+ 2% to + 5%) were also positive, however level of uncertainty and volatility is higher here.

Results of individual regions

Europe (5%) led the growth in absolute and relative terms. Euro weakening against the US dollar and other major currencies also contributed to this rise.

Number of tourist visits reached 609 million, which is 29 million more than in 2014.

Apparently, Central and Eastern Europe (6%) have recovered after fall in number of tourist visits in 2014. Northern Europe (+ 6%), Southern Europe (5%) and Western Europe (+ 4%) also showed good results, especially given the fact that these regions are relatively mature tourist destinations.

The Asia-Pacific region (5%) recorded 13 million tourist visits more than last year. The total number of visits amounted to 277 million, although the distribution is uneven in different directions.
Oceania (7%) and Southeast Asia (5%) were the leaders, and tourists flows in South Asia and North-East Asia grew by 4%.

Speaking of the Americas, the number of international tourist visits there (5%) increased by 9 million and amounted to 191 million, repeating the good results in 2014.

A strong dollar has led to growth in the number of American tourists visiting foreign countries. The main areas have become the Caribbean and Central America, with recorded growth of 7%.

The Americas results (4%) were close to the average.

The number of international tourist visits to the Middle East rose by 3% to $ 54 million.

Limited data for Africa show a decrease by 3% to 53 million.

In North Africa, the number decreased by 8%, while in sub-Saharan Africa - by 1%.
It is noted at the time that the results for Africa and the Middle East should be viewed with caution, as they are based on limited data.

China, the US and the UK turned to be tourism leaders in 2015

China led the growth of tourist spending among the major tourist providers countries, fueled by high levels of economic growth since 2004. Major tourist destinations that have benefited from China's economic growth were Japan and Thailand in Asia, as well as the USA and European countries.
On the other hand, countries that had previously been an important source of tourist expenditures - Russia and Brazil - in 2015 showed a decline. It was a reflection of the difficult economic situation there and depreciation of national currencies against almost all other currencies.

As for the traditional developed tourist providers countries, growth in spending of tourists from countries such as the US (9%) and the UK (6%) was driven by strong national currency and uprise of the economy.

Growth expenditures of tourists from Germany, Italy and Australia was lower (2%), and the Canadian and French - very weak.