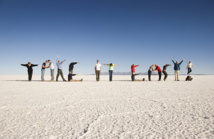 The main thing here - a bit of theory, lots of practice and confidence.

Where to begin? With a few lessons of communication.

Changing mindsets

The main barrier to successful communication is just your way of thinking. The development of communication skills are largely depend on what meaning you attach to your words.

For example, you are trying to talk to someone, and the interviewee looks away, what a point you will attach to this? You may think there's something wrong, and conclude that speak to strangers is unacceptable. And hardly will then seek to tie conversations with strangers. But what if your partner just shy? If you suggest his behavior has such a meaning, the result will be different.

Changing mindsets - this is what helps to overcome fear and learn to talk to anyone.

Coping with fear of criticism

A good way to overcome fear - imagine the worst-case scenario, and then imagine how you deal with this situation. Thereby you mentally mark your fear as such, and this, in turn, will help you get rid of or at least reduce it.

For example, you can imagine that there is something you didn't understand and did wrong, and all are laughing over you. Now imagine how you tell these people with kind of a sarcastic tone: "I am delighted you enjoyed it," or "I'm glad I made you smile."

Imagine yourself actor-comedian, parrying a replica of the hall. This way, you demonstrate that the reaction didn't worried or scared you at all.

Step into reality of the interlocutor

One of the best ways to ensure that people feel comfortable in dealing with you - step into their reality.

This means that you will go with him on his territory and in your opening statement mention what he was doing at that moment. On a subconscious level, it makes the conversation more meaningful and sincere as a man fully agree with what was said between you and your immediate rapport there.

Seeing, for example, a person who sits and reads a book, you can start a conversation like this: "I have noticed that you are reading this book, and ..." Thus, you have stepped into the reality of the other person.

Play voice

Another well-known, but effective way to reach an understanding with someone - to adjust to the pace of his speech. That is, if he speaks rather quickly, you should try to talk at the same pace, unless, of course, it does not cause too much inconvenience to you.

Compliance of rate of speech is necessary not only for understanding. Different people perceive and process information with different speed. This is reflected in the rate of speech.

So if someone speaks relatively slow pace, or his speech is noticeably slower than yours, it may mean that he needs to carefully consider everything.

Why is all this necessary?

By learning to talk to strangers, to establish a conversation with them, you will enrich your life and feel confident, calm in dealing with friends and business partners, start to get more pleasure from intercourse and learn a lot about the world around you and for others.

The daily routine can turn into a real adventure through contact with an interesting person, even if this adventure lasts just a minute or two.

Remember: not everything goes like clockwork in a conversation, but it never happens to be that bad. If everything is not as good as you want, you can tell somebody a great story about a failed conversation. Be that as it may, the ability to talk to anyone despite any barriers allow to get much ahead of most of your contemporaries. Communication is a minefield with a lot of obstacles. But to win it, you have to get out of theshell and begin to communicate with people. You can talk to anyone, it's simple. Let's start?