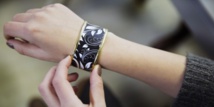 Tago Arc
But, what to be selected as a cover of the screen, the user decides for himself or, in this case, the owner of the product. Theoretically, any image can be such a cover, but developers believe that most people are to prefer all the same pictures that are stored in the memory of their gadgets.
Pattern using a special application can be downloaded from Google Play or created by the user.
According to the creators of hi-tech-jewelry, Tago Arc bracelet is using a special application synchronized with the smartphone of its owner. The surface of the bracelet is a display with electronic ink, and is mounted inside the NFC-chip. User chooses pattern online, downloads and transfers it to the bracelet.
In the near future, the designers assure, the function will be available to owners of mobile devices on Android, although the app for iOS is still being veiled. It is assumed that device's owner will have access to two types of patterns - free and premium.
- In principle, the choice is not counted in millions, but billions of options. This may a picture or an object formed by designer, for example, some remarkable cult things. Downloading of a picture will take only two clicks, just a few seconds, - tells LIBER8 developer Reka Kovacs.
Bracelet itself, t be noticeable to others, requires the least amount of energy: all the necessary communications are carried out in the system, which is called "near field communication". Today, it is mainly used in smart phones to transfer data, most often it comes to making purchases.
- There is a chip that also enables wireless operation technology of high-frequency short-range; it is carried out not only with phones, but with any gadget. All that is required - this display and compatibility of electronic items, - Kovacs concludes.
There are no buttons on the surface of the device, and the gadget does not require recharging, it does not perform any function besides above mentioned, and is being a simple piece of jewelry. Total sale received three versions of the bracelet: gold, silver and matte black colors.
Bracelet is already available, its price at retail is around 300 euros.
source:
euronews
.com