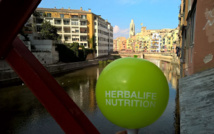 HERBALIFE ( Independent Distributor ) via flickr
According to the sources, the investigators were interested in statements made by the head of Pershing Square fund William Ackman, who has already became notorious for criticism of Herbalife. In particular, he accused the manufacturer of nutritional supplements in the organization of the financial pyramid in China. During a press conference in March, he said that the company pays its distributors a commission based on sales of inferiors, what is a violation of Chinese law.
Meanwhile, Herbalife has denied all the accusations and claims that the complex scheme of pay based on hours worked and is a consequence of the stringent requirements of regulators in China to firms involved in network marketing.
Moreover, the company, in turn, accuses Ackman in spreading false information about the Herbalife business model with an ax to grind - in 2013 Pershing Square made a huge bet worth $ 1 billion of Herbalife shares to fall down.
Since March 2014, Herbalife's shares drop in price almost doubled - from $ 81 to $ 42 at the end of trading on 1 April.
USA Federal Trade Commission (FTC) has been studying Herbalife's charges in creating a pyramid scheme for already more than a year, and the Securities and Exchange Commission (SEC) checks whether the activity of the company matches with security laws. The current actions of the New York law enforcement is the first criminal investigation into the alleged manipulation of the Herbalife securities. Representatives of the FTC, SEC, FBI and prosecutors in New York declined to comment on details of the investigation.
Ackman first publicly spoke out against Herbalife in 2012. He then, according to him, has spent more than $ 50 million to study the negative aspects of the company and the dissemination of information about it. Criticizing Herbalife's network business model, Ackman showed that the leading recruiters, attracting sales agents, earn status, while many agents are not able to earn by selling goods.
- Impartial analysis shows that this business model cannot survive, - a representative of Pershing Square said. Herbalife has spent on its defense more than $ 54 million. According to the company's management, its business model has a solid foundation. During January - February Herbalife shares fell 12%.
Previously vice president of Herbalife Alan Hoffman said that Ackman and Pershing Square have spent tens of millions of dollars "for the organization of false attacks on Herbalife». According to him, Ackman has a direct financial interest in harming of Herbalife; this struggle is worth $ 1 billion.
source:
wsj
.com