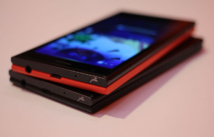 pestoverde
Emerging markets considerably surpassed these developed by the growth dynamics. Smartphone sales increased by 18.4% on the first, having reached 259.7 million units. Meanwhile, rise on the second was only 8.2%.

Samsung is keeping market leadership. According to Gartner, the South Korean giant has sold about 83.6 million smartphones in July-September, given that its market share was 23.7%. A year earlier, Samsung indices were at 72.9 million units and 23.9%, respectively.

Apple, which sold about 46 million iPhones to end-users, took second place with a share of 13.1%. It is also higher than last year's results of 38.2 million units (12.5%).

Huawei was the one that strengthened its position in the ranking most notably. The company increased sales of smartphones from 15.9 to 27.3 million units due to the high demand at home and in foreign markets, especially in Europe and China. The indicator of its presence rose from 5 2% to 7.7%.

Two other Chinese vendors included in the top-5 finish are almost equal: Lenovo sold 17.4 million smartphones, and Xiaomi - about 17.2 million. As a result, the share of each of the companies was 4.9%, whereas the figure a year ago reached 7% for Lenovo, and 5,2% for Xiaomi.

Earlier, another research firm Canaccord Genuity said that Apple continues to collect almost all the profits from the worldwide sales of smartphones. At the end of the III quarter of this year, Tim Cook received 94% of the total income in the segment of "smart" handsets. A year earlier, the index stood at 85%.

In terms of operating profit, the South Korean vendor is far from Apple: Samsung's share accounted for only about 11% of total profits in the smartphone market in the period under review. This is obliged to the fact that the iPhone is much more expensive than Android-devices produced by Samsung. Average price (ASP) of the first was $ 670 in the last quarter, and only $ 180 costed the second then.

Experts explain that the total result of Apple and Samsung is over 100% as the majority of other smartphone manufacturers operate either at a loss or zero profits.