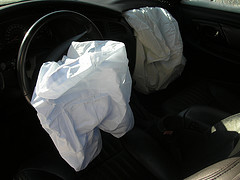 General Motors and Subaru are the new set of 'victims' in the list of car makers who have to recall their vehicles with faulty air bags made by Japanese Takata Corporation.

Currently, there are 11 automakers in the list who have recalled or is in the process of recalling their vehicles with faulty airbags made by Takata Corporation. The bags were tested to be inflating with far more force and could possibly throw shrapnel at the passengers. With the passengers safety at risk, the US government has noted that it would double the number of recalls to a whopping 33.8 million, which is also the largest recall in US history. This recall has surpassed the largest US recall of 21 million vehicles by Ford Motor Co in the 1980s for a parking gear problem.

Besides GM and Subaru, Honda, Fiat Chrysler, BMW, Ford, Mitsubishi, Daimler Trucks, Mazda, Nissan, and Toyota are the affected car makers. Nissan will also recall some of its vehicles, but noted that none will be from the US.

Toyota and Nissan recalled 6.56 million vehicles with Takata air bags this same week. Combining the losses for all the Japanese majors, the recall will be affecting more than 35 million vehicles in the span of ten years. Honda itself has made a cumulative total of 19.6 million recalls.

U.S. safety regulator the National Highway Traffic Safety Administration has also said it would soon announce "significant new steps" related to the recalls. Takata already faces multiple class action lawsuits in the United States and Canada as well as a U.S. criminal investigation and a regulatory probe.