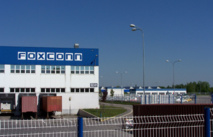 Nadkachna
In the previous reporting quarter, Foxconn's sales reached 1.07 trillion Taiwan dollars (about $ 33 billion). This is the highest result of the company for the period July-September. Compared to the previous quarter and the same quarter of 2014, revenues increased by 9.6% and 12.13%, respectively.

Analysts attribute the rise to success of the new Apple smartphone, which assembly is carried out at Foxconn enterprises. Industry experts point out that the Taiwanese vendor is fully responsible for the production of iPhone 6S Plus. Foxconn also produces half of all iPhones 6S. The second half is under Pegatron's control.

Foxconn's revenues rushed up immediately after the release of new Apple's products. In September alone, the company earned 460.9 billion Taiwan dollars (more than $ 14 billion), the August result has been improved by 57.3%, and the rate of a year ago by almost 11%.

Production of the Apple devices provides more than 40% of Foxconn's revenue, but it is not the only contractor's partner. Foxconn manufactures consumer electronics and other famous international brands, including American company Dell and Japanese Sony. Number of orders from them has also increased in connection with the preparation for the seasonal rise in demand for the year-end holiday season, said the Taiwanese agency CNA.

It is expected that in the final quarter of 2015, Foxconn's revenues will exceed 1.5 trillion Taiwan dollars ($ 46.5 billion) on the background of continued high interest in the new iPhone. If this happens, annual Foxconn's sales may exceed 4.5 trillion Taiwan dollars (about $ 140 billion) or even reach the mark of 4.6 trillion.

In September, it was also reported that Foxconn is ready to pay to 200 billion yen (about $ 1.7 billion) for a controlling stake in Sharp's unit, responsible for the development and sale of liquid crystal displays. It was reported by Reuters referring to the Japanese newspaper Mainichi. Part of the investment (several hundred million dollars) for the transaction is planned to be drawn from Apple.

Sharp itself said they continue to consider various options for restructuring the display business, but nothing more.

Bloomberg says that Foxconn and Sharp has not yet discussed the financial side of the issue. In addition, the process of a comprehensive study of the activities of the business, its financial condition and position in the market (due diligence) has not been completed yet. In this regard, there is no assurance that the transaction will be closed.

The issue of Foxconn's investment in Sharp was raised three years ago. In March 2012, Foxconn announced the purchase of nearly 10% stake in Sharp for 66.9 billion yen ($ 544 million), but the deal was never finished because of the rapid collapse of quotations of the Japanese vendor against its poor financial results.