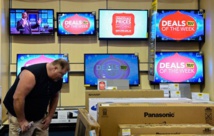 Thestrategist.media, Chicago – 18 May 2015 – In spite of positive sales projections, upbeat consumer confidence levels and lot other optimistic sales growth indications, retailers are still unsure about strategic investments in the new U.S retail marketplace. The largest U.S retailers are still unsure about the growth chances of the market even though market performances have been stable and steadily growing year after year.

Retailers are now eyeing growth options not just in opening new stores but rather developing brand image in more ways than one. These days with physical stores, a solid online presence is also essential to provide customers with convenience and easy access to products.

2015 BDO Retail Risk Factor Report has collected and analyzed months of data related to vendor and retailers concerns over the retail industry from concerns over shipping and imports to supplier and vendor risks. Retailers have decided to look away from China over raising cost issues and decided to focus on North America as the most wanted sourcing option according to BDO's 2015 Retail Compass Survey of CFOs.

Investment cannot just be focused on physical stores anymore, that form of investment is pretty risky. With customers having migrated online for majority of the current generation, capital investments more so than less need to be focused on online sales channels, supply chain networks and system implementations.

The following are the top risk factors cited by the 100 largest U.S retailers:
Economic conditions in general
Local, State and/or Federal Regulations
Consolidation and competition in Retail Sector
IT Systems- management and successful implementation
Privacy Concerns Related to Cyber Security
U.S and Foreign Supplier/Vendor Concerns
Labor (health coverage, unions etc.)
Natural Disasters
Dependency on Consumer Trends
Legal Proceedings
Availability of Financing o Credit to establish businesses
Impediments to further U.S Expansion and Growth
Accounting Standards and Regulations facing changes
Consumer Confidence and Spending
International Operations
Environmental Laws, Regulations and Liabilities
Loss of Key Management
Insured costs and Uninsured Liabilities
Mergers, Acquisitions and New ventures
Infringement of Intellectual Property
Mismanagement of capital investment
Balancing of inventories
Successful utilization of promotions, advertising and marketing techniques
Economic Risk Concerns Headed By Interest rates
Second year in a row, interest rates clocked as the most frequently cited economic concern at 88% over fuel prices that plagued 83%. With unemployment now in check, retailers and consumers are all looking towards the Federal Reserve to see if rates would be lowered.
Concerns over Currency Rate
The U.S dollar's value has risen in the past year but still currency rate risks are bothering retailers in a percentage of 82%.
Cyber security Risks Now Omnipresent
With cyber security such a common issue these days, virtually all retailers at 99% have cited IT concerns as a top risk in terms of business.
Market Concerns Still High overlabor and Workforce Availabilities
Labor risks worry retailers with a full 96% of them citing that as a concern. Faced with stress of workforce problems, stores are struggling to find skilled workers.
About the Consumer Business Practice at BDO USA, LLP
BDO is a seasoned business advisor to consumer business companies for over 100 years. The firm offers assistance to a wide variety of consumer and retail business clients, ranging from small entrepreneurial businesses to multinational conglomerates featured on Forbes' lists, on points of tax calculations, maintaining accounts or ledgers and other financial issues.
About BDO
BDO is the commonly used nomenclature for BDO USA, LLP, a professional firm that provides financial consulting and advisory tax services to several companies both publicly and privately managed. BDO serves clients all over the world through a global inter-connected chain of 1,328 offices in 151 countries.
References:
https://www.bdo.com/news/2015-may/retailers-top-risks-signal-questions