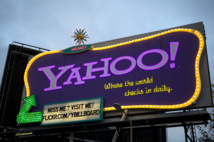 Scott Schiller
Development center and research Office will be closed in Beijing.
Internet giant on par with other high-tech firms in China has faced stiff competition from local companies.
Due to the closure of the office about 200-300 people will lost their job. The company informed the employees on the reduction on Wednesday. Yahoo office in Beijing is the only representative office in China; it functioned as a center for research and development.
In 2013, Yahoo has ceased to provide email services to Chinese users, inviting them to transfer accounts in the postal service Alimail, owned by Alibaba Holding.
In the statement, Yahoo said that the company is consolidating certain activities for a more efficient cooperation and promoting innovation.
Yahoo has joined the list of foreign companies that reported in recent years about closure or phasing-out the activities in the Chinese market.
In February, Microsoft also reported about plans to close two of nine plants in China.
Google back in 2010 factually went out of China because of censorship dispute with the Chinese authorities.
The creator of the video game Zynga closed its office in Beijing and fired 70 people this year as well.
China Market Research analyst Shaun Rein explains the difficulties that foreign companies face in China by well-developed online business in the sphere in the country. Sometimes local companies are more familiar with Chinese realities, it is easier to react more quickly to changing user habits and respond to growing demands:
- In China, in contrast to other countries, foreign companies are opposed by aggressive local players.
Also, the American search engine is under pressure from investors, such as Starboard Value LP, which require Yahoo to cut costs and optimize. According to experts, the Chinese division of the company occupies an insignificant position in the market and enjoy low demand among advertisers that may have contributed to the decision to close it.
Since October last year, Yahoo has reduced manual order of 700-900 jobs, mainly outside the United States. In total, the state of Yahoo is about 12.5 thousand people. In recent months, layoffs have affected the representative office in Bangalore, India, as well as Canadian units.
Yahoo! is an American company, which owns the second most popular (7.57%) in the world of search engine (in this case in the United States and Canada under an agreement with Microsoft from 2009 and as of 2012 search on the site Yahoo is done by search engine Bing). The company provides a number of services, united Internet portal Yahoo! Directory, which includes the popular email service Yahoo! Mail, one of the oldest and most popular on the Internet.
source:
wsj
.com