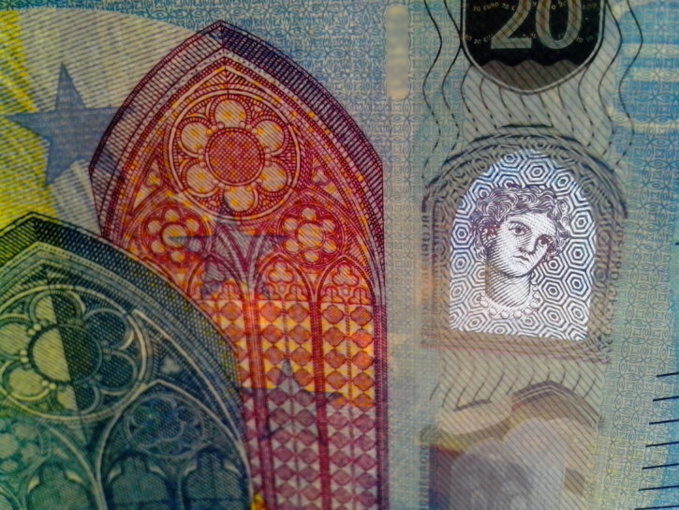 Watermarking is a misnomer : it is created either by embossing the rolling pins on the paper press or by voluntarily omitting fibers in certain areas during the paper production phase. The process therefore involves no water, and the name only comes from the "wet effect" which will be seen when light passes through the paper. In addition, it originates from the jewelry world, not the paper world. The European Central bank chose the watermark both for its
symbolic value and its difficulty to counterfeit
: "
The Eurosystem chose to put a portrait of Europa in the watermark and the hologram of the new series of euro banknotes. Europa is a figure from Greek mythology [...] against the light, portrait of Europa, the value and a window become visible. Put the banknote on a dark surface and the light areas become darker
". As part of the paper itself, watermarks are virtually impossible to "copy and paste" to the paper. As a relatively cheap, easily usable to detect anomalies, and technologically advanced security design, it earned the right to return to the working table, in the eyes of Oberthur fiduciaire's designers.
Oberthur Fiduciaire must, naturally, remain discreet on most of the security features it places on its bills, but the general idea is as follows : the replacement of a banknote series is bad news for counterfeiters, who must often start over their copying process. Adding a maximum amount of new complex security designs into the new series will slow down forgers all the more, hopefully leaving them too little time to study and copy between banknote series. As
reported
by currency-specialized website CoinWeek, the new krone banknotes which Oberthur had delivered just prior displayed "
two new security features. In the lower-left corner of the front side of the new notes there is a ring. When you tilt the banknote in different directions, the ring appears to float and you can see a play of colors. When you tilt the note back and forth, the chain on the right-hand side of the banknote appears to move
."
In all,
17 specific patents
relative to design security are owned and used by Oberthur, in addition to general banknote-printing technology, available to all the industry. But developing security features into the design is unfortunately not enough, without advanced control of the supply chain. Counterfeiters will save a lot of time in the reproduction of banknotes if they can gain access the same material as the legitimate producer. This is done by accessing the supply chain covertly and discreetly collecting a small sample or simply copying it. This is partly why Oberthur Fiduciaire chose to acquire one of its suppliers,
VHP Security Paper
, "
VHP Security has been developing new technology watermarks for some time and its Pixel watermark, released just a few years ago, has already been selected by ten countries and features on more than 30 billion banknotes. The technology creates bright areas in the watermark, making it easy to identify and authenticate and more difficult to counterfeit.
"
By integrating upstream, Oberthur Fiduciaire is now able to improve reporting methods, adapt production methods, develop synergies and reduce costs, secure production processes. Finally, it can access the entire company's technology and broaden the technological barrage it lays before counterfeiting organizations.
Stock Exchange analysts
reported
the operation in last July : "
Arjowiggins Security sealed an irreversible deal with Oberthur Fiduciaire for the sale of its daughter company Arjowiggins Security BV including its VHP factory located in Apeldoorn in the Netherlands and the intellectual property rights linked to the supply of paper for banknote production
." With its hands directly on the paper production unit, Oberthur Fiduciaire no longer needs to rely on customer relationship to ensure that the supply chain and technology is out of reach of malevolent hands and eyes. VHP Security papers owns ten
main security patents
, covering watermark technology, high-durability papers and security threads.
Any security feature, on any banknote ever, can be counterfeited, and secure printers knows that. But they also know that, the more complex and refined the system, the longer it will take to forgers to make an equivalent product. If they can crack into the supply chain by intruding into a supplier's warehouse when his security is lax, they will speed up the process. Oberthur Fiduciaire has therefore founded its entire strategy on time : making complex, constantly evolving, features on its products, the base products of which are kept under its tight control.
By the time forgers crack into features or warehouses, the bills will long have been modified, sending counterfeiters back to square one. Despite almost a millennium of existence, watermarking technology still has enough potential to send counterfeiters scratching their heads for more time than they have.