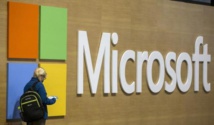 Microsoft's cash counters are singing: sales of Xbox gaming consoles and Surface tablets are reaching newer heights and yet, strangely, they are contributing to less than 10% of the company's revenue, making analysts scratch their heads and wonder – are these barely profitable? Or are they profitable at all?
Common sense would dictate, unless a business generates significant profits, it is not worth it, and yet Microsoft, a giant in the software industry as well as in the console gaming arena is treading what normally would seem against common sense. This naturally makes you wonder what is going on?
"Unless Microsoft can get to hardware break-even within two years or demonstrate sufficient offsetting value elsewhere in the portfolio, we think the company should exit the hardware business," said analysts from RBC Capital Markets to a client in a note. In fact, if Microsoft exited the production of hardware, it is likely to add $4 per share to its current market value.
In essence Microsoft has done exactly that. It has closed down its Nokia phone business and is concentrating on the rapid growth of cloud business, its newest operating system, Windows 10, its smartphones, Xbox and on its tablet – Surface and Surface Pro.
Analysts say that focussing on Windows 10 and on the rapidly expanding cloud business, makes sense. But they are unable to figure out the rationale behind investing tons of money into its hardware divisions.
"Hardware remains a more commoditized piece across tech. Hardware is not what got Microsoft here - software did," said Daniel Ives, an analyst at FBR Capital Markets.
After Microsoft announced its writing-off of the Nokia acquisition, which caused it a loss of 7.5 billion in its quarterly report, analysts clearly feel that Microsoft should pool in resource and focus more on the strength of its software divisions. Microsoft's share by, as much as, 4% after this news got released.
What is clear, is that Satya Nadella, CEO Microsoft, has an angle that analysts are not being able to figure out, for Nadella is committed to making phones more attractive to windows users.
Microsoft does not provide break-ups of its operating margins for its hardware divisions. John DiFucci, an analyst from Jefferies & Co believes that Microsoft's Xbox business was at best a break-even; as for Surface, it is more likely to be unprofitable.
"We believe redeploying funds into ... hardware is a mistake given that business's lack of margin and strategic importance to Microsoft," said John DiFucci.
Thanks to a strong dollar, Microsoft's revenues from its software and hardware divisions have risen by 44% in the fourth quarter. Half of this can be attributed to its cloud business.
Mark Moerdler, an analysts from Bernstein is a black sheep amongst other analysts. He doesn't expect Microsoft to drop either its tablet or its console business for he thinks that "Investors will be fine with both if they are break-even or going to be there shortly."
In fact, he says, the Xbox could act like a honey pot and attract more users to Microsoft devices and the Windows platform.
References:
http://www.reuters.com/article/2015/07/22/us-microsoft-hardware-idUSKCN0PW25U20150722