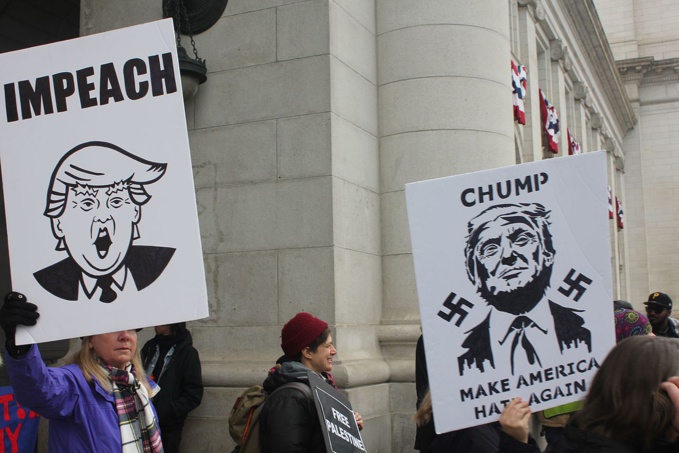 Jack from Leesport Pa.
According to American observers, investors and business in general are beginning to consider potential impeachment of Donald Trump among potential risks of the coming year. Probability of this increased markedly after the November by-election to Congress, during which the Democrats seized the majority in the House of Representatives. Steve Okun, senior adviser at McLarty Associates consulting company, said on the air of CNBC that regardless of whether the impeachment procedure actually begins or not, the likelihood of this is already being actively discussed in American political circles. All this represents a risk to business.
Speaking about what exactly could result in the procedure of impeachment of President, said the Democratic party congressman Jerry Nadler. Back in early December, he said that if the accusations against Trump's former lawyer, Michael Cohen, were confirmed and it turned out that the current president did pay for the silence of the women with whom he had a relationship, this could be a reason to start the procedure of impeachment.
Other potential risks for American business in 2019 include the following problems:
•
Noticeable deterioration of the situation on the stock markets, aggravated by the end of this year and imposed on the budget crisis between the administration of the White House and Congress;
•
Escalation of the trade conflict between the United States and China;
•
Consequences of too harsh policy of the Fed's on the key rate (last week the Fed raised the key rate by 0.25 percentage point to a range of 2.25–2.5% per annum).
"I have never seen such nervousness in the American business community as it is now," Mr. Okun summed up.
Speaking about the Fed's policy, Donald Trump seemingly become more lenient last Tuesday (he had previously expressed dissatisfaction with rates raising too much). At a meeting with reporters at the White House, Mr. Trump said that although the Fed "raises the rates too quickly," he is confident that this department will "soon realize this and resolve the issue." In addition, the US president expressed support for the current finance minister, Steven Mnuchin, who, he said, is "a very talented guy, a very smart man."
Last weekend, Mr. Mnuchin held telephone conversations with heads of the largest US banks, who "assured him of sufficient volumes of liquidity for lending to consumers, markets and other operations." Analysts have found that the key administration minister of Donald Trump had to resort to such an unusual step as recent rounding the largest banks amid a sharp decline in US stock markets, which could be aggravated by the budget crisis.

source: cnn.com