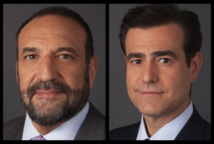 Thestrategist.media – 01 May 2015 – Patrick Hipes reports that Joel Silver has shaken a hand of partnership with Daryl Katz who is an entrepreneur from Canada; together the duo is about to form the "Silver Pictures Entertainment". The said company will invest in developing, producing "its own slate of feature films, TV and digital projects" along with arranging the finance for the same.

The ex-finance agent of "ICM film", Hal Sadoff, will occupy the post of Silver Pictures Entertainment's C.E.O. Sadoff has also worked as a producer with "Silver" on multiple movies like "The Nice Guys", which has been one of the recent work of Silver, along with "Gothika" and "House On Haunted Hill" among others. In fact, "The Nice Guys" which stars "Russell Crowe and Ryan Gosling", currently in 'post-production' is to release on "May 20, 2016", as per the target set by Warners.

Silver has bagged credits for producing "iconic franchises" like 'Die Hard', 'Lethal Weapon and 'Matrix'. In fact, the legacy of Warner Bros and Silver will still continue as a certain deal allows the latter to carry on with prior projects commitments with the former. Moreover, the list of future productions of the duo includes:
"...a third Sherlock Holmes movie, a sequel to Project X, Logan's Run, Ben 10 and the Ross MacDonald adaptation The Galton Case."

On the other hand, Daryl Katz runs "Katz Group" which deals in sports-entertainment, development of real estate and pharmacy operations. Moreover, Katz is the owner of "Edmonton Oilers", as a result, he is constructing an arena which will provide an entertainment-platform "in downtown Edmonton". The entire said project will require "$2.5 billion". It is a "part of the SPE venture" whereby the company "will help" to 'enhance' the expanding scope of the said "entertainment platform"

As per Silver's statement:
"Daryl Katz is an entrepreneur in the truest sense of the word. I've watched him build brands, sports teams and multibillion-dollar businesses with vision and drive, and that's someone I want by my side. Daryl's expressed interest is to enhance his sport and entertainment division with significant entertainment properties and it's really exciting for me to be with him on that journey."

The assigned C.E.O. of Silver and Katz' joint venture, Sadoff has had the experience of a "Head of International and Media Finance", an "investment banker" and of an "executive producer", who produced above four hundred films whereby the total budget amounts to "over $3.5 billion". In Silver's words:
"I've had the pleasure of knowing Hal for 15 years on multiple motion pictures, but only recently began working with him on the next chapter of Silver Pictures. There's no one with more experience or better equipped to be our CEO or to lead the great team of people we have on board here."
The present Silver executive figures enlists Ethan Erwin, Aaron Auch and Sarah Meyer who are to "oversee production and development" as their continued responsibilities. Nevertheless, the "Silver Pictures Entertainment" is planning to shift to the Venice Post Office building by 2016 which would be completed after "a four-year restoration" work. In fact, Silver Pictures has some projects up its sleeve like "The Outsider", and "a redo of the 1985 pic Weird Science and Gypsy".
References:
http://deadline.com/2015/04/joel-silver-silver-pictures-entertainment-daryl-katz-hal-sadoff-1201416892/