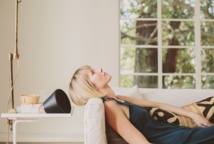 With its price of $ 399, Aether fully paid off the money invested in it.
The gadget is connected to the home Wi-Fi-network and looks for all kinds of online music services.
At the same time, it does not need your computer or smartphone to complete the work (although they may be required when you first set up the device).
The speaker is doing all the necessary operations by its own.
From the whole speaker controls, there are only the power button speaker volume control, and rotating the front grill, turning the user can control the playback of tracks available to you.
Turn clockwise - pass to the next track, counterclockwise - the previous and so on.
Aether's algorithm is a machine learning, which studies your listening habits, remembers the story of the playing track, thereby adding a detailed map of your love for music.
As a result, the user need only press the Power button on the body of the speaker, and the gadget will take the rest on themselves, creating a customized background music according to your preferences.
But now the speaker has received another valuable skill: it learned to communicate with the user.
Ask it that the track is playing at the moment, and it will play the artist and song you want to hear right now.
The speaker took the basic voice commands from the first day of its existence, but now it has become a lot smarter.
For example, if your home has more than one Aether, you can instruct any particular trend, and it will execute it properly.
From now on, the speaker will be checking with you, whether it understood your order, or you want to make any adjustments.
It passed only a year from the moment when Aether entered the free market, and the speaker is rapidly continues to gain popularity among music lovers and people who love the unusual gadgets.
Price still leaves much to be desired, but let's agree that some people give much more for Apple Watch.
So why not spend money on your love of music?