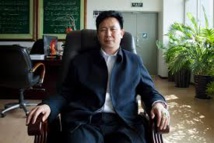 Beijing – 09 May 2015 – The success story of Zhang Long centres on the business of "Pu'er fermented tea and handcrafted furniture". Zhang comes from south-western part of China wherein his native place lies in "Yunnan Province" within the mountain cradle. Interestingly, he has led his story that began with "tea" to a completely opposite platform of technology.

Zhang is a forty nine year old 'entrepreneur' without any background of technology. Nevertheless, he developed "a Linux-based operating system", namely "SPGnux", which he claims "could replace Microsoft Corp's Windows". In fact, in order to market the same, his "latest made-in-China product", Zhang stepped into a ballroom at Beijing, sometimes during last November wherein he projected his marketing video.

The said video contained images "of former U.S. National Security Agency contractor Edward Snowden" which was out up on a large display monitors, whereby Zhang "proclaimed" that:
"Information security is vital to the interests of China and the interests of the Chinese people".

The Chinese trend of attempting to "replace foreign technology with Chinese-developed systems" got a boost in the year of 2013 after the disclosure of "security holes in American technology products". Snowden has brought to the world's attention the issue "of U.S. cyber spying" whereby every citizen is probably under the scrutiny of the security cameras. The information caused a "waning grip" of Silicon Valley over the respective market.

Likewise, Chinese government was "prompted" "to accelerate a broad campaign" against a better security system which ignited "a frenzy among state-affiliated software firms, investors and savvy businessmen", as all sought to "capitalise" the $450 Billion annual enterprise of Chinese "computing market".

In fact, the companies to join the marketing 'battle' "look better equipped", whereby they have secured better chances of succeeding "than others". Likewise, Hongqi, the "most successful operating system" manufacturing Chinese company, which went into a struggling period after its successful break-through, sold itself for $6 Million. The bidders in the selling auction included food-transporting company, "coal magnate" and 'aviation-company, among others. The ex-director of Hongqi says:
"We're in a new bubble because of Snowden. These bosses don't need that much money or expertise to get into the game, but the payoff can be potentially large."

Nevertheless, the "big state" agencies of China are still hesitant in installing local software as a replacement of Microsoft whereby transferring "its servers to a local operating system"; although experts claim that "Chinese technology has matured" to quite some extent. Moreover, the Snowden "leaks" have strengthened the profiles of quite a few Chinene software developing companies including Lenovo and Linux. In fact, the said distractive movement in Chinese market is also a testimony to the fact that:
"...how the industry in China is often influenced by the political climate."

However, Zhang claims that "Sipu Enterprise Group" has generated "more than" ten-version of "SPGnux" which can be available in Arabic, English and Chinese. As per Zhang, SPGnux have gained popularity among government offices after "the Snowden revelations".

Zhang Long, starting with "an unorthodox resume", has established himself as "an influential member of China's Academy of Engineering" along with the "founding chief technology officer" of Lenovo Group's of Companies. Moreover, the wide spectrum of Zhang's business genre includes furniture, software, films "import-export business" and tea selling unit whereby he markets "a Peruvian herbal supplement", named "Maca", known for "its libido-boosting effects". He says:
"I don't think of products as having nationalities. I only follow market demand."