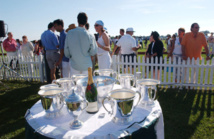 Peter Stevens via flickr
Welfare of billionaires is growing much faster than the world economy. Since 1995, overall community of richest people increased eightfold to $ 5.4 trillion in 2014. Meanwhile, world GDP increased threefold to $ 77 trillion over the same period, said the report.

Only 126 of 289 business representatives were able to stay on the list for the past 20 years, that is, 44% of the total number of billionaires in 1995. In 2014, the list included more than 1,300 people.

Number of women billionaires has increased by 6.6 times since 1995, from 22 to 145 people, which is apparently more than the same rate of men, according to UBS and PricewaterhouseCoopers.

Number of male billionaires has grown only 5.2 times since 1995, the report said. However, 90% of the 1,300 included in the rating are men after all, the report says.

December 10, Forbes named the most successful billionaire in 2015. According to the magazine, it is Amazon's CEO Jeff Bezos, who managed to earn the most in 2015 - 29.5 billion dollars. For comparison, in March this year, Bezos kept 15 th. place among the world's richest people.

Second place in the ranking of the most successful businessmen in 2015 was taken by co-founder and head of Facebook Mark Zuckerberg, whose fortune increased by $ 11 billion. On the third line is Larry Page - CEO of Alphabet, the newly formed parent company Google. He earned $ 9.2 billion in the past year. His fortune is estimated at 45.6 billion dollars.

The top five also features Alphabet President Sergey Brin, who received 8.9 billion dollars in 2015, with his state increased to 37.6 billion dollars. Michael Bloomberg, founder and head of Bloomberg LP, earned $ 5.5 billion, which increased his fortune to 40.5 billion dollars.

In October, Bloomberg published a new ranking of the most influential people in the business world, named "Most Influential". This time, the table was left founder of Alibaba Group Jack Ma and Ukrainian billionaire Rinat Akhmetov. In total, 14 people were able to maintain their position in the family of 50-list. Among them, for example, are head of Tesla Elon Musk, Apple CEO Tim Cook, financiers Warren Buffett and Carl Icahn, banker Mario Draghi and head of the US Federal Reserve Janet Yellen.