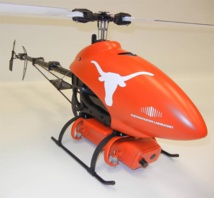 University of Texas–Austin drone
UAV learns to destroy its-like.

French aerospace company Thales Group is developing an unmanned aircraft designed to destroy other drones.

Drone Interceptor will be built in 18 months, in the framework of French Angelas National Research Agency (ANR) project. It is already known that the UAV has received numerous sensors - optical, radar and acoustic.

Other parameters of the drone are not reported, as well as how it is going to intercept and neutralize the "enemy" drones. Probably, there will be an electromagnetic pulse setting, the system jamming, or equipment that will allow capturing of the machine.

In the long term, the 'hunter drones' will be used to protect facilities against espionage using drones.

A first drone for fishermen

Engineer Daniel Marion from San Diego (USA) turned the drone into a tool for fishermen.

Typically, UAVs are absolutely not compatible with water that can bring a lot of trouble - for example, if you're shooting a spectacular shot over the pond and the multicopter's battery suddenly discharged. But the new unusual Splash drone is designed to solve these problems.

50-inch waterproof Splash Drone quadrocopter can swim, take off from the water and splash down. You can safely send it to the open sea and get a variety of pictures of the underwater life through the onboard camera GoPro Dive, that supports online video streaming, fixed on gimbals.

Splash Drone can automatically return to base and perform the function of following a particular object. Four 30-inch carbon fiber propellers are enough to transport a small load, allowing, for example, to send container with food from shore to friends on the boat.

Drones can be controlled by a smartphone or a conventional remote control. Splash Drone's creators collect funding for the project on Kickstarter: for $390, you can buy a kit for self-assembly, and the machine completely ready to operate goes for $800.

Daniel Marion invented a better use for it: equipped with powerful sonar to find fish, AguaDrone can scan the waters to a depth of 37 meters. It transmits the results of the scan to the fishermen's smartphone using Wi-Fi to a distance of 98 meters.

The drone can fly around the pond, freeze over the place where fish is discovered, or even land on the water. UAV is equipped with a GPS system and is able to return to base. In the future, it's going to be equipped with a waterproof HD-cam.

At the time, an angler can load into AguaDrone bait or tackle with bait attached for the drone to throw it right into place of fish detection at a distance of 100 meters. Now the creator of drone is collecting funds to commercial release with the help of Kickstarter.

Microsoft is developing a drone to catch mosquitoes and sandflies

Various viral infection, that are transmitted to humans through insects, killed more people than the First World War in the early 20th century. Malaria epidemics are still occasionally flare up in Africa and Southeast Asia. Microsoft decided to deal with them through the unmanned aircraft - drones and other advanced technologies.

The program is assuming that unmanned drones will be used for search and identification of new disease to prevent them from becoming a threat to livestock, wildlife and mankind. As we know, one of the most active carriers of infection are insects. That is to catch mosquitoes and mosquitoes flying drone is designed by Microsoft. It is a sphere with a plurality of cylindrical compartments.

The company hopes that its research and development can help fight the terrible tropical diseases, and it will be possible to study the mass of insects before they cause harm to mankind.