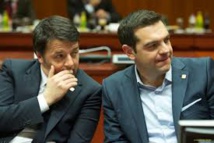 With Greek's Prime Minister running on a clock to pass a series of pro-market legislations and smother dissent from hardliners from his own party, time will tell whether he will be able to bail out Greece from the bleak providence it may face if Mr. Alexis is not able to stick to the clock.
Staring at a near financial meltdown, it is imperative that Tsipras meet the demands of his international creditors and face the anger of his lawmakers as well as the public which rejected tougher measures of reform in the July 5
th
referendum.
The ruling party – Syriza, has already met its junior coalition partners in a series of separate meeting to ensure the smooth sailing of his proposed legislation in parliament. This includes the unsavory items such as pension reforms, tax hikes and tighter supervision of government finances.
For the Suriza party, it was a spectacular 180 degree turnaround: voted to power in January it promised the end of tax hikes, while now it has to digest the bitter pill of even more stringent financial reforms. There is rampant speculation in the press that the Greek Prime Minister could resign.
Comparing the challenge facing the Greek government to the mythological Gordian Knot that was impossible to untie, Nikos Voutsis, the Interior Minister had confidence that Tsipras will be able to muster the number to see the legislations sail through parliament.
"The decisions that will facilitate a return to normality will take place," said Voutsis.
Investors were however understandably edgy. European shares edged lower after a four-day rally amidst uncertainty over whether the proposed legislations will make it in time.
Suriza's junior coalition partner has diplomatically promised to support the government so far as the bailout measures which were agreed in Brussels are concerned.
"We are committed to voting for what we decided in the council of the political leaders and only that, no other measures that are imposed," said Panos Kammenos, head of the right-wing Independent Greeks.
The parliamentary speaker will be a key player during the passing of the legislations. He has been a ferocious critic of the deal handed out by Greek's creditors. In case she needs to be by-passed, Tsipras could move a vote of no-confidence against her, but that would eat up precious time as well as political capital.
The center-right Kathimerini newspaper reported, "The government finds itself in quicksand after the deal with creditors. Mr. Tsipras needs to solve a difficult equation as dissenters on Wednesday's vote may reach or exceed 40."
Tsipras needs 151 of 300 lawmakers on his side in order to pass the legislations. His party along with his allies have theoretically the magic number of 162.
References:
http://www.reuters.com/article/2015/07/14/us-eurozone-greece-idUSKBN0P40EO20150714