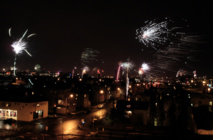 Börkur Sigurbjörnsson
Barack Obama

Barack Obama and his family spends this Christmas in his home state - Hawaii, just like the previous seven years. Traditionally, the first family of the United States chooses the island of Oahu, where rents a house near the beach in Kailua for $ 3,500 a day. Last year, the entire presidential Christmas trip costed US taxpayers about $ 4 million, according to Daily Mail.

Obama went to Hawaii with his wife, daughters and dog Bo on 18 December. The family is going to spend more than two weeks on the island in total. The Federal Aviation Administration has confirmed that the temporary flight restrictions are applied to in this zone until 4 January. On vacation, Obama plans to play his favorite golf, snorkel, and, at the urging of the First Lady, have proper sleep.

Angela Merkel

German Chancellor and the Person of the Year in 2015 (by Time magazine) Angela Merkel traditionally spends Christmas skiing. Last year, together with her husband, they chose a place not far from the popular Swiss resort of St. Moritz. For 20 years, Merkel does not change her pair of cross-country ski brand Germina. After tumbling down in January 2014, the head of the company-producer Mike Notnagel offered Chancellor a new pair, but she refused.

Frau Merkel also enjoys cooking. Several years ago, Chancellor personally baked goose for Christmas table.

Vladimir Putin

The Russian president does not usually announce the place for the New Year celebration. Last year, a week before holidays, his press secretary, Dmitry Peskov reported that they still don't feel New Year's atmosphere as work is not completed yet.

David Cameron

British Prime Minister met Last New Year's Eve at a party. Together with his wife, David Cameron had fun in a country house of Blur's bass guitarist Alex James. Samantha Cameron danced all evening and even did an impromptu guitar playing, using her own foot. The Prime Minister refused to sing karaoke. "Security of Camerons couple watched for none of the 200 guests could take pictures of the Prime Minister and his wife. Cameron spent the evening with a glass of wine, but he was not drunk, "- said one of the witnesses.

The British royal family

British monarchs prefer to spend Christmas with their families. For many years, Queen Elizabeth II welcomes the main holiday in the family estate Sandringham House in Norfolk. Amber Hall of Prince William and Kate Middleton is located next door, and here the members of the royal family come.

There are some mandatory rules for the Christmas event: a visit to a church service, a dinner party with a turkey grown in these parts, exchange of gifts, hunting of pheasants and indispensable Queen's address to the nation. Several years ago, the royal family has got another "television tradition" watching Christmas specials of "Downton Abbey."

Preparing for the holiday and searching for gifts, Kate Middleton, Duchess of Cambridge, personally walked through the London store Peter Jones clutching packages. Prince William admitted that the best gift for him would be the sleeping. But then he doubted it, suggesting that his son George "will jump like a rabbit" on Christmas.