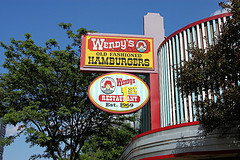 US-based fast food chain Wendy's plans to sell 640 restaurants in the U.S. and Canada to franchisees to generate cash and reduce expenses. The restaurants are currently operated by the management itself. Besides offloading their restaurants, Wendy's is also mulling selling off its bakery operation which is currently based in only one location - Zanesville, Ohio.

The company earlier announced its intentions to sell some of its company-owned restaurants to franchisees and now it has made the plan more concrete by aiming to sell 380 restaurants this year, including 100 in Canada, and 260 restaurants in 2016. This offloading will allow the company to get $400 to $475 million as revenue and ultimately reduce future capital expenditure requirements.

Speaking about this move, Wendy's CEO Emil Brolick said in a statement: "Going forward, we intend to buy and sell restaurants opportunistically to act as a catalyst for growth by further strengthening our franchisee base, driving new restaurant development and accelerating Image Activation adoption." On the move to sell New Bakery Company, Wendy's chief financial officer Todd Penegor said the brand felt that "the appropriate thing to do would be to put it in the hands of a true bakery operator." The company was also quick to suggest that this move is not indicative of the struggling financial times for the fast food industry but a realignment process as the company is trying to set itself apart by selling premium products including artisan breads and pretzels. Wendy's allegedly felt that the slight sales boost from the menu additions wasn't enough to make the ownership of the bakery worthwhile and the company now feels the concept must be owned by a real bakery company.

Founded in 1969 in Ohio by Dave Thomas, Wendy's is the world's third largest hamburger fast food chain with approximately 6,650 locations, following Burger King and McDonald's.