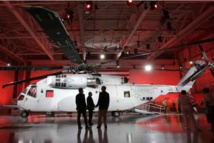 United Technologies Corp has decided to sell its Sikorsky Aircraft division for a whopping $8 billion to U.S aircraft giant, Lockheed Martin Corp. The deal will help Lockheed Martin cement its dominance in the global weapons market. The makers of the F-35 fighter planes will also have the Black Hawk choppers in its marketing kitty.
The deal will further add to Lockheed Martin's annual revenue of $45 billion, thus dwarfing its competitors - Northrop Grumman Corp and Boeing. It will help it expand its products lines overseas, as Sikorsky's black Hawk choppers are iconic.
As per a source, who did not want to be identified since he was not supposed to speak on this matter, both companies will also the sale at the time of presenting the report of the second quarter.
It has been two decade since Lockheed Martin has made such a big acquisition of more than $10 billion. This is the first major strategic move made by Lockheed Martin CEO Marillyn Hewson and United Tech's CEO Greg Hayes. Greg was elevated from FCO to CEO last November and Marillyn became the CEO in January 2013.
Both, Lockheed Martin and United Technologies declined to comment.
As per sources familiar with this matter, Textron Inc, the parent of Bell Helicopter, had earlier bided for Sikorsky, but it dropped out of the bidding process as prices rose. Both chopper manufacturers have seen their revenues drop with lower demand from the gas and oil sector.
However, officials from the Pentagon said they would carefully evaluate the sale, since it was important to maintain competition in the market and avoid distortion. The U.S DoD can interject in mergers of key component suppliers when it comes up for the federal antitrust review. In this case, this could be lead by the U.S. Justice Department.
Industry sources do not expect any antitrust objections since Lockheed Martin does not itself manufacture helicopters, but given its expanded scale, the deal could be scrutinized.
"It's a big deal, but it doesn't concentrate markets any further than they already were," said defense consultant Loren Thompson from Virginia. "There's no real overlap between the fighter market and the rotorcraft market. They're discrete markets with different customers and users."
As per several sources familiar with the matter, Lockheed Martin is likely to shed some of its low-income sources and thus boost its revenues. This is a long overdue move, since after the end of the cold war the U.S defense market has contracted. The only sector, in the defense market, which was not affected by this contraction was the helicopter section.
Already, Lockheed and Sikorsky are working together on several major helicopter programs, including a combat rescue helicopter, a presidential helicopter, S-model choppers for the Marine Corps and Navy and the MH-60R. With Sikorsky having a strong footing in the international market, Lockheed Martin's international footprint is likely to grow.
"It's a great business for them to own. In addition to the F-35 and the C-130J, Sikorsky is another great brand for them to underpin their defense strategy," said Richard Aboulafia, an aerospace analyst with the Virginia-based Teal Group.
References:
http://www.reuters.com/article/2015/07/19/us-sikorsky-m-a-lockheed-idUSKCN0PT0MM20150719